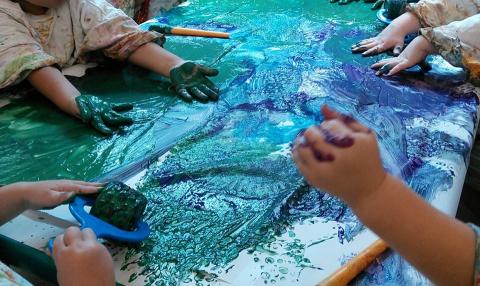 What High Quality PreK IS vs IS NOT: HINT Wear A Smock
As my friends and I – many teachers and all parents of school aged children – hustled this weekend to make sure our children were ready for the new school year, I found myself being asked many questions about early learning. In addition to being mom to five and an early childhood educator, I am a foot soldier for the new statewide initiative, PreK for PA (www.prekforpa.org). Literally. Going in and out of preschools, HeadStart programs, parent meetings, and legislative offices -  I speak to the incredible value high quality early learning has to our communities. I left a wonderful classroom of preschoolers to help more of their peers be able to access high quality early learning.  A couple weeks ago I helped train over 4,000 NYC new UPK teachers in  high quality pre-k education. Over more than two decades, nature based and developmentally appropriate practices implemented during play have show the most success for children;s happiness, success, and overall readiness for kindergarten. 
So, these days I get alot of prek questions. 
While the inquiries weren't always in the form of a question this holiday weekend, the conversation my mom & teacher friends clearly WANTED to have with me was: "How can universal pre-k ensure developmentally appropriate practices, nature based learning and NOT just be a cattle chute?"
"I love how you teach and have seen the amazing outcomes of children directly. But, " my friend continued, "…how is [this campaign] in Pennsylvania really defining quality?"
She went on to address how a Nature-Based Preschool is best practices. "How will that practice find its way to all 3 & 4 year old children via a large statewide initiative?" she asked.
Basically, I spoke not just from my heart and mission, but from the knowledge of the inner workings of this campaign.
"High-quality early learning will never be delivered via cookie-cutters or an easy-bake oven. Delivering a learning opportunity to an individual in early learning is knowing the foundations – the fundamentals – of how we develop and learn. So while high-quality early learning does not come from a manufacturer, it needs a large organization of committed moms, dads, teachers, social workers, therapists, and more from both private AND public settings to ensure each individual child finds and has access to the best 'match' for their learning and their families' preferences."
Conversations went on for hours at some points. Yes, hours.
No worries – there was a theme so I have summed it up for you in a What High quality PreK IS and IS NOT:
High quality PreK IS:
·         Meeting the individual child's learning style (visual, auditory, kinesthetic)
·         Built on successful, ongoing, personal relationships between multiple stakeholders (family, parents, children teachers, administrators)
·         Full of hands-on learning
·         Inclusive
·         Bringing the children outdoors safely for child-centered learning
·         Play
·         Incorporating music
·         Sharing resources between teachers, schools, administrators, parents, and families
·         Full of observations and dialogue
·         Evidence based
·         Part time; Full time; School-based; Home-based; Center-based
·         Real, nature-based materials
·         Playgrounds with moveable pieces
*          An artform
High quality PreK is NOT:
·         Standardized test
·         Sitting in little desks
·         Plastic materials
·         Happening in silos
*         All the children do the same thing at the same time. 
*         Teachers sitting and chatting with other teachers during learning time. 
*         Inside all day. 
*         Staying clean all day
Pre-K for PA has many dedicated individuals from a cross-section of professions in the state with boots on the ground working to realize the dream that one day every three and four year old in Pennsylvania has access to high quality pre-k through a mixed delivery system.
Please join us today!
Sign up here: www.prekforpa.org
Or simply leave a comment below with your email. I will personally reach out to answer any questions, concerns or help sign you on.
Thanks for reading! (I bet you learned that in a high quality early learning program ;)