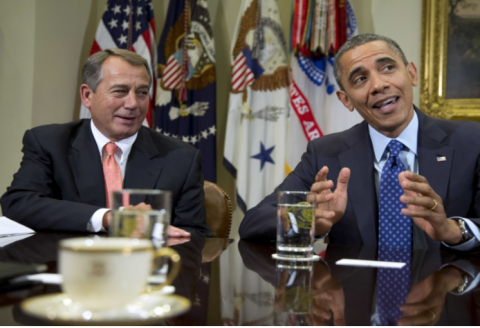 What Happens When a Tea Partier and Gay Rights Activist Come Together?
True story: I once set up a coffee between two friends that testified against each other in the heated marriage equality debate in New Hampshire. 
Also true: while they ended up friends, initially, I encountered a barrier increasingly common in American politics. The public is so divided ideologically that people won't talk to someone on the opposite political spectrum. Approach them about the idea and their reaction is consistently the same: Why? What good could ever come out of such a conversation?
For a long time that, too, was my reaction. But after having participated in a few of these conversations I can tell you that I have never regretted them. As an organizer, I've found it insightful to hear the stories of people who think differently than I do, to parse through the ideology and find common values and even common issues that we can work on. Such "transpartisan" dialogue and work is happening in areas such as criminal justice reform. 
This Wednesday, January 28, 2015, I will be in San Francisco talking about the transpartisan skills I've gained from such conversations, including sharing the above story of my Tea Party and gay rights activist friends. This is an event that will include other speakers as well and is open to the public. Please come! The following are the details:
What: Transpartisan Leadership Workshop
Date: Wednesday, January 28, 2015
Time: 6 p.m.
Place: World Affairs Council, 2nd floor auditorium
          312 Sutter Street, San Francisco, CA 94108
See you there! Together we are a powerful force for women and families.