What do President Barack Obama, Senator Olympia Snowe and Oprah Winfrey have in common?
Like 1 of 11 people in the United States, they spent some part of their childhood being raised by their grandparents or other relatives. This practice, called kinship care, has grown over the last decade. Last week, the Annie E. Casey Foundation released a KIDS COUNT policy report, Stepping up for Kids: What Government and Communities Should Do to Support Kinship Families, which shows that more than 2.7 million children across the nation are being raised by kin.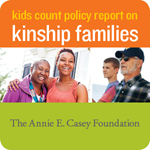 These families can provide safe, stable and nurturing homes for children suffering from the trauma of parental separation and other hardships. Children in kinship care often fare better than their peers in foster care, who are frequently placed with strangers or in a group home or institution. These children are less likely to experience behavioral problems, school disruptions and psychiatric disorders, and are better able to adjust to their new environment. In short, when a stable birth parent relationship is not available to them, kinship care works.
We know that it's expensive to raise a child, and it's especially tough for many relatives who take on this unexpected role. They are more likely than the typical caregiver to be older, single, not working and struggling to support themselves.  There's no question these extended family members are taking on a tough job. 
The Casey Foundation's direct service agency, Casey Family Services, works with many kin caregivers and has been privileged to work with a group of caregivers in Rhode Island known as the Grand Divas. One of the Divas, Meredith Lopes, has cared for her three granddaughters since 1994 in her one-bedroom apartment. Because Meredith's home did not meet the state's licensing rule for the required number of square feet for foster homes, she received no financial support. Today, Meredith's three young ladies are doing very well and their birth mother (Meredith's daughter) has turned her life completely around. Meredith is like many others who choose to take on the critical job of raising these children and we, as a society, need to do a better job of helping them do it.  
Some of the recommendations in the report include:
Increasing the financial stability of kinship care families by ensuring they have access to benefits they are entitled to, such as Temporary Assistance for Needy Families, Supplemental Nutrition Assistance Program and the Children's Health Insurance Program;  
Strengthening kinship families involved in the child welfare system by promoting use of the federal Guardianship Assistance Program and reducing the legal roadblocks they often encounter;  
Encouraging communities and state governments to work together to better coordinate the network of available services and supports.
While extended family and friends are stepping up to do the right thing and raise these children, we need to step up our efforts to support them as well.
If you want to know more about kinship families, you can read the report or find out how many kids are being cared for by kin where you live on the KIDS COUNT Data Center.  You can also join @aecfkidscount on twitter on June 7th from 2 - 3 p.m. ET for our latest #CaseyChat focused on #kinship families .