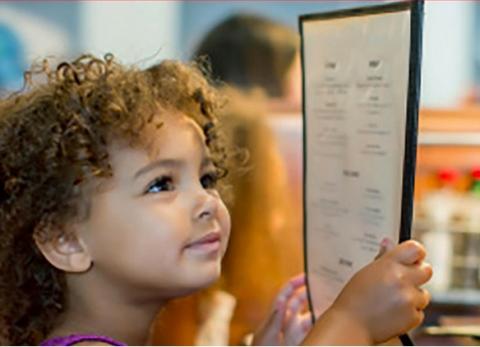 What can top restaurant chains do to protect their littlest customers from toxic pesticides?
As my colleague Miriam discussed here, chlorpyrifos is a highly toxic and commonly used agricultural pesticide that poses serious health risks for consumers, in particular children. The amount of chlorpyrifos residue consumed by one person in a day can add up quickly because many different fruits and vegetables contain these residues. Fruits that are big favorites for kids like apples, peaches, oranges, and strawberries are widely grown using chlorpyrifos; residues are found even after washing and peeling (in the case of citrus fruit and melons). Last fall, U.S. EPA deemed chlorpyrifos to be unsafe and announced it would ban the chemical. But the Trump Administration refused to implement the ban, putting industry profits ahead of our children's health.  
Parents and pregnant women shouldn't have to worry that a dangerous chemical might be lurking in the fruits and veggies they eat or feed their kids. In the face of federal inaction, large food companies have a responsibility to ensure chlorpyrifos is not used in their supply chains. These companies also have the opportunity to lead in protecting their customers from exposure to this dangerous chemical—in particular their littlest customers.
As NRDC frequently tells consumers, the best way to protect yourself and your family is to go organic as much as possible while pregnant or when feeding kids at home. Organic agriculture prohibits use of chlorpyrifos or other organophosphates and testing regularly shows no residues. In this way, organic production protects children, pregnant woman, farmworkers and agricultural communities from toxic pesticides. It also delivers a host of other environmental benefits to soil, water and air.
Consumers care about these issues and are voting with their wallets. Demand for organics has grown by double-digits nearly every year since the 1990s. Organic sales, which were $3.6 billion in 1997, have grown to $47 billion in 2016.
If you're a parent, ages 18- to 34-year-old, and you buy organic, you're not alone. Millennial parents are now the biggest group of organic buyers in America and consumer surveys show that one key driver of organic food purchases is concern over pesticides. A NPR-Thompson Reuters Health Poll found that 58% of people prefer to eat organic over non-organic food. The same survey showed that a key driver of organic food purchases is concern over toxins, such as pesticides, in non-organic food.
However, despite the benefits of organic production and significant demand, organics make up only a small fraction of farmed acres and just over 5% of total U.S. food sales. Of those consumers surveyed in the NPR-Thompson Reuters poll that prefer non-organic food, 54% said organic food is too expensive and 21% said it was not readily available.
The commitment of big-box retailers like Costco and Walmart to selling more organic produce at competitive prices has eased access to some extent. However, over 50% of food dollars are now spent on food consumed outside the home. The chain restaurant industry holds significant buying power that could make organic produce more readily available to more Americans, but national restaurant chains have yet to step up when it comes to organics.
It is particularly important for the restaurant industry to take notice because big national restaurant chains serve millions of apples and other fruit as a healthy snack on their kid's meal menus. That's great because fresh fruits and vegetables are a nutritious and essential part of kids' diets. But as leaders in their industry, top chains ought to be taking the health risks of chlorpyrifos exposure seriously.
Top restaurant chains can be leaders in protecting kids from these toxic residues by doing two things. First, they can agree to immediately survey their suppliers of apples, citrus, and any other fruit that ends up on their kids' meal menus to determine whether they are using chlorpyrifos (or other pesticides in the same organophosphate family) on their farms. Second, they can commit to purchasing certified organic fruit for their kids' menus, beginning with the top fruit they sell to kids: apples.