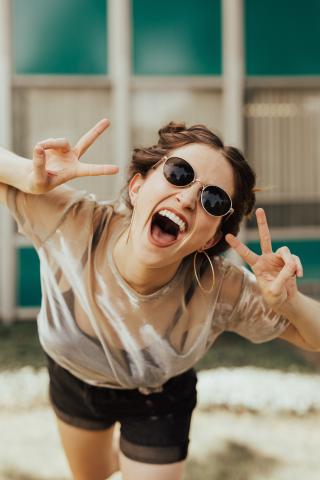 What a Dazzling Display of August MOMentum!
Grab your sunglasses because your August MOMentum was brilliant!
We're so inspired by how MomsRising community members like you have been coming together to make a difference for moms and families across the nation in a powerful, effective, and ongoing way. For instance, recently members joined forces to demand Congress pass a national budget that reflects our values, pushed for equal pay, celebrated new protections for nursing mothers and pregnant workers, and distributed hundreds of banned books to Florida families to help ensure there is historically accurate education, and joined President Biden and friends to mark the anniversary and victories of the Inflation Reduction Act.
Scroll on to bask in this August MOMentum – you made it happen!
With every action, every donation, every conversation you engage in, you're driving positive change. Thank you for helping us shape a future where families thrive, where equality reigns, and where our voices are heard.
In solidarity and with heartfelt gratitude, 
Kerri, Nina, Tina, Nate, Kristin, and everyone at MomsRising
---
House Republicans have put forth purely partisan spending bills that slash funding for programs our families need to build a good life. Let your elected leaders know that you are paying attention and you expect them to pass a budget that reflects the priorities of America's families, not just big businesses and the mega-wealthy. 
---
EQUAL PAY FOR MOMS
Aug. 15 was Moms' Equal Pay Day, which marks how far moms in the United States must work into 2023 to catch up to what dads were typically paid in 2022 alone. Yes, more than 8 months of extra work. Not okay!
This appalling motherhood wage gap is unjust, disproportionately harms moms and moms of color, and devastates our economy. The good news is, we know how to close it. With your support, the MomsRising community is tackling the gap:
KNOW MORE: MomsRising Workplace Justice Campaign Manager Taylor Austin breaks down the mom wage gap issues AND the solutions. With your help, we can fix this!
URGE CONGRESS TO SWIFTLY PASS BILLS THAT HELP CLOSE THE WAGE GAPS: Give moms and their families better workplace protections. Tell your members of Congress to pass the Paycheck Fairness Act, Healthy Families Act, and FAMILY Act!
FOLLOW THE DISCUSSION: Noreen Farrell of Equal Rights Advocates/Equal Pay Today hosted an impactful Instagram Live conversation with MamásConPoder Vice President Xochitl Oseguera about the drivers of economic insecurity that mothers face in the workplace.
---
BUMPS & PUMPS: CELEBRATING NATIONAL BREASTFEEDING MONTH
We're rising for National Breastfeeding Month with a celebration in Times Square!
This #NewRights4Parents campaign promotes education about two new laws that have dramatically expanded protections for workers who are pregnant, nursing, and/or in postpartum recovery so more people learn about their new rights. The PUMP for Nursing Mothers Act ensures that the majority of workers will have the right to take breaks as often as needed — as well as access to private areas in the workplace — to express breast milk. And, under the Pregnant Workers Fairness Act, all employers with at least 15 employees are required to provide "reasonable accommodations" to employees who have healthcare needs stemming from pregnancy, childbirth, or related medical conditions.
Together, these landmark laws will provide significant health and economic protections for millions of women and families.
Help us share the news so more people can learn about (and access!) their new rights! 
Visit us on Instagram or share this blog post!
We're incredibly grateful for your support of this and other campaigns! Thank you!
---
DIVERSE BOOKS FOR ALL


This August MomsRising Florida distributed over a hundred banned books to families at a Book Back-to-School event to help uplift the importance of historically accurate education. The MomsRising team spoke with over 200 local Florida families about fighting book bans, expanding access to child care, and more!
We're also proud to announce that the Diverse Books for All Coalition, a national collaboration of 38 nonprofits working to tackle the lack of affordable, diverse children's books, is partnering with MomsRising to bring the insights and perspective of parents to help shape the Coalition's work to stop unfair censorship and bans that limit historically accurate and age-appropriate learning. As part of that mandate, MomsRising is creating and facilitating a parent ambassador group to provide ongoing input regarding diverse books and the resources that parents and caregivers need to advocate for and use them. Way to go moms!
READ: Diverse Books for All Coalition Partners with MomsRising to Support Parent Engagement
Your generosity made this MOMentum. Thank you!
---
BRIGHT SPOTS & CELEBRATIONS


In other MOMentum, we joined President Biden and our friends to celebrate the anniversary and victories of the Inflation Reduction Act, honored the invaluable contributions of indigenous communities for International Day for the World's Indigenous People, and shouted out the Washington State MomsForce fellows for raising awareness about Washington State's Working Families Tax Credit. Click through to join us in the celebrations!
---
MOMSRISING IN THE NEWS
THE WASHINGTON POST: Opinion: Think child care is hard to find now? Wait a couple of months.
"Collapse is back on the table…more than 70,000 child-care programs are expected to close entirely." — Features MomsRising member Corrine Hendrickson
MARKETWATCH: Lazy-girl jobs? Millions of working mothers can't afford such a luxury.
"The wage gap makes it harder for moms to put food on the table and gas in their cars, to afford quality child care and health care, to pay the rent and clothe their kids. It hurts families, communities, and our economy." — MomsRising Washington State Senior Director Sara Alcid 
DAILY KOS: The way to safety is not more police: The People's Response Act provides a roadmap rooted in dignity
"We must reimagine our public safety system's instinct to criminalize and replace it with an instinct to be thoughtful, strategic, and rooted in providing appropriate care and response." — MomsRising Chief Strategy Officer Monifa Bandele 
MARKETWATCH: 'You are a mother. You make a way when there's no way': This mom earns $2,000 less per month while her kids are on break from school
"Every summer has really been a struggle." — MomsRising member Mia Isbell (MomsRising member Takeela Washington is also quoted)