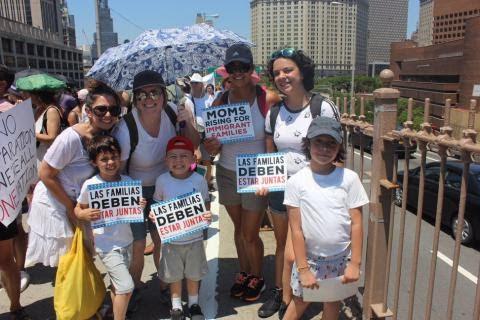 We're all in for immigrant justice. Join us.
This year we dealt a big blow to the private prison industry — and we couldn't have done it without MomsRising supporters like you.
Working with the powerful Families Belong Together coalition, the MomsRising community won the commitment of Wells Fargo Bank, JPMorgan Chase, Bank of America, SunTrust, U.S. Bank, BNP Paribas, Fifth Third Bank, Barclays, and PNC to end financing of private prisons and detention centers, which profit from the suffering of immigrant families and devastating practices of mass incarceration.
These nine bank commitments represent an approximate whopping 87% of the known credit and term loans available to the top private prison companies, CoreCivic and Geo Group!
This huge victory started with contributions from MomsRising supporters just like you.
In 2020, we're going all in for justice, and for a brighter, safer, fairer future for EVERY woman, mom and family.
Will you consider joining the team of our amazing monthly Champion contributors to power up our immigration work and to fuel MOMentum all year long?
A sister donor will DOUBLE YOUR POWER and match your monthly donations for an entire year, but only if you give by Dec. 31!
Or, if you can't go monthly yet, chip in once today, and your contribution will still be matched $1-for-$1.
With your help, our power is growing.
Together, we're telling our stories. Flexing the power of our purses (and our banking) for good. Speaking out to our elected officials. Rising to protect the most vulnerable among us.
Side-by-side, we're also winning critical legislative victories — from paid family/medical leave to fair pay to maternal justice — for women and children at all governmental levels.
We're able to continuously fight for women, moms, and families across our nation because of our generous monthly contributors.
To make sure we can Keep Rising for EVERYONE , can you chip in a special monthly donation to keep our critical work going?
Or make a one-time gift instead.
Thanks for helping power our movement!
P.S. To help us start strong in the new year, we've set a goal of 100 new monthly Champion contributors by the end of the month. We've already gotten 61 so far. Can you be one of the 39 we more we need this month?