We Told You So, Moms Are Powerful!
You asked, Congress listened! In response to MomsRising messages to Congress last week, U.S. Senate Majority Leader Harry Reid, a primary architect of the healthcare reform plan, asked to be the first member of Congress to be photographed wearing the MomsRising Pacifier pin to show that he also won't be pacified until healthcare reform is done right for children and families. (See picture just below).*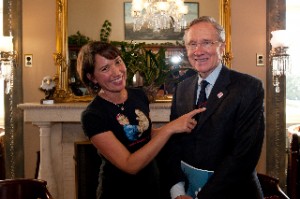 Wow! You did it!
But just because we have a head honcho on our side doesn't mean we're done yet… There's more work to do. Right now, Congress is making monumental decisions about health reform: Make sure your Congressional Representatives join Senator Reid in showing that they'll also stand up for affordable and comprehensive coverage for all kids and families.
http://salsa.democracyinaction.org/o/1768/campaign.jsp?campaign_KEY=27312
By clicking the easy link above you'll be able to send your members of Congress a letter now saying, "We're pinning our hopes on YOU to stand up for children and families in healthcare reform!," ask them to wear our MomsRising pin, and then to send us a quick photo of themselves wearing our pin so we can post it on our website to celebrate their support for women, families, and children.
It only takes one minute to email a letter.
Why are we pinning down Congress? The MomsRising pins, which were delivered to all of Congress last Friday along with a book of MomsRising member healthcare stories, help raise awareness among elected leaders in Congress that kids and families can't be forgotten when corporate insurance lobbyists start talking. Imagine sitting around a table negotiating who's covered by healthcare reform and who's not with industry lobbyists, and then looking up to see a Congressional colleague's pin as a reminder that many need coverage who don't have a powerful lobby, i.e. kids.
Our MomsRising pins put kids in the healthcare negotiating meetings-right on the lapels of decision makers!
Health reform is getting a lot of attention, but the headlines focus on adults. Even with great public healthcare programs like Medicaid and CHIP, millions of children remain uncovered and under-insured. Congress needs to make sure all kids benefit from health reform.
We have momentum now. Let's keep pushing! Getting U.S. Senate Majority Leader Reid to wear our pin is a huge victory, now we all need to make sure that others in Congress follow Sen. Reid's example and stand up for kids and families.
*Don't forget to tell your Congressional Representatives to stand up for kids and families too and show their support by wearing the MomsRising pin! Here's a page with a close-up of the image on the pin.
http://salsa.democracyinaction.org/o/1768/campaign.jsp?campaign_KEY=27312

And please invite your friends and family to this blog post to click the link too. Kids need every adult voice to speak up right now!
Thanks for all your work!