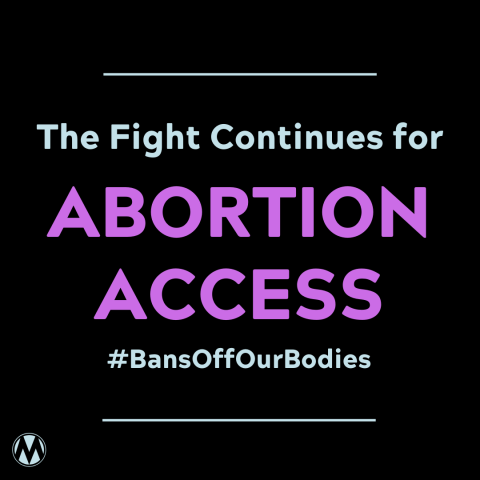 We need your signature right now to protect already limited access to abortion in TX
Once again, conservative groups and anti-abortion politicians are doing their best to sustain power by stripping people of their human right to reproductive and abortion health care. This time in Amarillo, Texas where as it currently stands, Mifepristone -- the medication used to assist the abortion procedure and terminate a pregnancy -- is being attacked and challenged through a lawsuit targeting the Food and Drug Administration (FDA) by an anti-extremist group[1]. We've had enough!
We stand with Women's March and are calling on the U.S. Congress to pledge their support to mothers and parents - and show up for people and communities who are in dire need of abortion and reproductive health care. Sign our petition!
At this very moment in history, abortion pills are one of the only available ways to access abortion in the country, particularly in states that have banned abortion altogether. So what we're witnessing, and for some of us: experiencing in real time, is an attack on the only option we have left to determine the fate of our lives. What is happening right now in Amarillo, TX gives us insight to the upcoming threat of a nationwide ban on the most commonly prescribed medication abortion.
We need our elected officials to step in immediately to defend and protect access to safe abortion, including medication abortion and can't do this work alone. *Click here to sign onto our petition*
We implore our legislators to fully show up for people and communities fighting for racial, economic, and reproductive justice, to commit to protecting our rights, and to acknowledge that abortion-specific restrictions are a tool of gender oppression, as they target health care services that are used primarily by women. The aggressive and harmful strike by anti-abortion extremists on abortion medication not only strips us of our right to access medication and power to make decisions over our lives, it literally strips us of our right to privacy protection and physical safety—a constitutional right!
We already know that we can not rely on the current justices to protect our reproductive rights. Every day since the U.S. Supreme Court overturned Roe, more people are being denied abortion care, making an already dire situation worse. It is clear that we are all we have. Side with the future and against discriminatory laws and bans that strip away our rights and take us backward.
→ Sign onto our national letter urging our U.S. Congress to step in immediately and take action to protect our rights!
We are proud to partner with Women's March on the #BiggerThanRoe movement in Amarillo, Texas. To join their on-the-ground action, in Amarillo, on Saturday, February 11, 3023, *click here* to sign up!