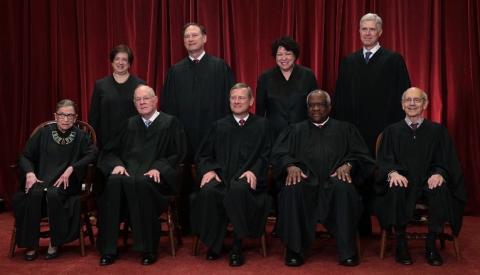 We have the power to choose the US Supreme Court
Never, ever give up! Read the depressing headlines today? Well, before you do, remember that you have power, that we together can control the future makeup of Congress and of the U.S. Supreme Court (through who we elect to the U.S. Senate), and that we can win by making sure our friends and community vote in those and all other elections.
It's time to hit the emergency button, embrace our power on the ballot, and double down on standing up. MomsRising promises you that more than ever, we are ALL-IN. Will you be all-in too?
*Join us, and pledge now to never stop fighting, starting with voting this November. But beyond that, from this moment forward, pledge to stay informed and engaged, and to hold our leaders, as well as those who want to be our leaders, accountable for representing US!
This is our country. Join MomsRising and pledge now to fight for it!
Here's the bad news: U.S. Supreme Court Justice Anthony Kennedy just announced he's retiring. And not one, but several bad U.S. Supreme Court decisions came out this week, including a 5-4 vote to uphold Trump's xenophobic and destructive Muslim Ban. Now, WE must vote in November to elect a Congress and state leaders that will stop this hateful and extremist agenda.
But the health and wellbeing of our democracy isn't just about Election Day - it's about all of us nurturing it and never losing our focus. It's about us fighting for it every single day. Today, MomsRising pledges to never stop fighting for it. Will you pledge too?
This is our country. Pledge now to fight for it.
We are in crisis! These things are happening every day that strike at our country's very soul. So that means we have to show up every day. And MomsRising promises you we will. Will you promise too?
Pledge now to fight for our country! Together, we can make sure that the U.S. Congress is a check against President Trump's extremist agenda. Together, we can change the makeup of the U.S. Supreme Court through who we elect to the U.S. Senate and as President.
History has shown us that we can never ever give up. Donald Trump was elected with just 27% of eligible voters casting a ballot in his name. This is because, in part, too few eligible voters registered to vote, and too few registered voters voted. We have both a severe case of voter anemia in our nation and rampant voter suppression and misinformation.
We can fix this and so much more by doubling down, showing up, and fighting for our country every single day.
Sign our pledge to vote - we'll help make sure you are registered, and also share reminders and opportunities to support you, your friends, family, and neighbors in voting this November!
We must come together to overcome all court sanctioned racism and xenophobia -- and to build a nation where everyone can thrive. It's time for the nation to rise together. We must speak loud and clear in city halls, the state houses, at Capitol Hill, in the streets, and at the polls!
P.S. Do you or a friend need to register to vote? Here is a link where you can get registered right now. Share it with friends who might not be registered too! Register to Vote Now.