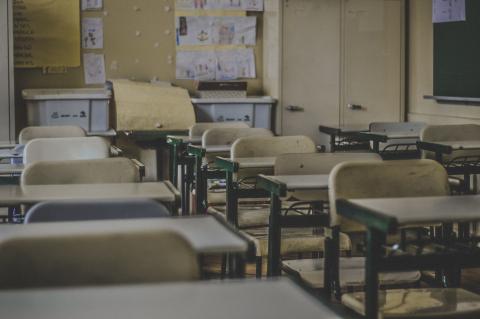 We Can't Open Schools Without Paid Leave. Pass it on.
It's a back to school season like none we have ever experienced before. Instead of reviewing school supply lists, we're dealing with a lot of uncertainty and scrambling to figure out what to do if (!?!?) or when (!?!?) our schools and child care centers reopen.
This year the supplies that we need the most are things like paid family/medical leave, paid sick days, and massive investments in child care - and they are in *very* short supply.
Congress has a role in fixing this problem and they need to ACT NOW.
→ Tell your U.S. Senators that they must act quickly to support child care and also to extend and expand access to pandemic paid leave before school starts. Otherwise, there is no way schools, or anything else, will be able to safely reopen.
One thing is certain: We can't open school without paid leave for everyone. And we can't open child care without massive investments in our child care infrastructure, including ensuring all early educators have access to paid sick days when they need them. But the limited pandemic paid leave provisions Congress passed in the spring are set to expire at the end of December, and so far no relief package has had nearly enough support for child care! It's time to speak out!
This week the U.S. Senate will start working on what is likely to be the *last* COVID-19 relief legislation they will deal with for the rest of the year, and that package must include massive investments in child care, and expanded access to paid leave.
The need is frighteningly urgent. The limited paid leave program Congress passed in April leaves out over 106 million working people. Put another way: Right now approximately 83% of U.S. workers are left out of pandemic paid leave and if they don't close the loopholes, then these families will continue to be left out as COVID-19 spikes in new places across the country. [1] It's not sustainable for families, and it's not acceptable. We've got to expand these policies quickly.
Families like Te'Jal's, a MomsRising member, are suffering. Te'Jal's family was left out of the Families First emergency paid leave benefits because her employer has more than 500 employees. Her two-year-old son's child care center has closed due to the pandemic, and she is struggling to work full-time from home and care for him at the same time. She used her limited sick time when she and her son both had the flu earlier this year, so she worries how her family will manage if she or her son becomes seriously ill.
→ Now is the time to really amp up the pressure on the U.S. Senate to act.
The plain truth is that without paid sick days and family and medical leave, we can't safely reopen -- especially as pandemic death rates continue to rise. [2] In fact, right now the majority of workers still don't have access to paid leave to stay home to protect themselves and others if they get sick. [3] And we KNOW that access to paid sick days and paid leave helps reduce the spread of viral infections. For example, states and cities that have passed paid sick time legislation have seen their flu rates decrease by up to 40%! [4]
We need to build in protections in the next coronavirus relief package! Unfortunately, the first paid leave law that Congress passed doesn't go nearly far enough -- leaving out over 100 million working people -- that's almost a third of the entire nation's population, including children. Even worse, these meager paid leave laws expire at the end of 2020, right when we may be facing a new spike in COVID-19. [5]
And no package passed by Congress yet has come close to providing the support we need for child care. The pandemic has made it harder than ever for families to access affordable, high-quality child care. While some child care providers remained open during the pandemic to care for the children of essential workers, many more have stayed closed and will likely close permanently. According to a study released just last week by the National Association of Young Children, two out of every five child care programs are expected to close their programs forever if elected leaders don't act now to stabilize the industry. [6] And for those child care providers who are currently open or are looking at re-opening amidst concerns about health and safety and lower enrollment, which will decrease revenue at the same time costs for cleaning and health and safety supplies are going up. [7]
Without child care or school, parents are struggling to work, attend college, participate in job training, and take care of other household responsibilities. This is getting worse as more workplaces reopen.
→ Tell your U.S. Senators they must act quickly to extend and expand access to pandemic paid leave before school starts and they need to invest in child care. Otherwise, there is no way schools, or anything else, will be able to safely reopen.
Our senators have seen a lot of research, but your personal experiences are what stick in their minds the most when considering what to do. So taking just a few moments to add your name to our letter and add your own note sharing your experience goes a long way towards influencing lawmakers and pressuring them to do the right thing.
There's no time to waste. Massive investments in early learning and access to comprehensive and permanent paid sick days and paid family and medical leave will be crucial for reopening states safely: This virus hasn't gone away, and won't anytime soon, and people will need time to recover without worrying about losing their jobs.
Together we're a powerful force for women and families, in good times and in bad.
- Ruth, Nina, Christina, Tina, Kristin, and the rest of the MomsRising/MamásConPoder Team
P.S. Breonna Taylor was a dreamer, a go-getter, she was an award-winning EMT, an essential worker at two hospitals during the pandemic. She was beloved by her friends and family. On March 13th, she was killed in her home, in her bed. It's been over 150 days and no charges have been filed against the officers responsible for her death. We are heartbroken, outraged and horrified. This miscarriage of justice has gone on too long. Breonna is dead, and the perpetrators are facing no charges. Take Action here!
P.P.S. Know Your Rights! Click here to find out if you are covered by the limited paid sick days and paid family leave.
P.P.P.S. MomsRising joined early learning experts in the field to develop a short book that centers the lives and challenges of working families and child care providers amidst today's unprecedented public health and economic crisis. You can read here: Child Care In Crisis: Stories From the Field
References:
[1] Center for American Progress: Coronavirus Paid Leave Exemptions exclude millions of workers
[2] Washington Post: U.S. Sets another single-day total
[3] KQED: Even With New Federal Coronavirus Bill, Most Workers Get No Additional Sick Leave
[4] VOX CEPER: The pros and cons of sick days
[5] Center for American Progress: Coronavirus Paid Leave Exemptions exclude millions of workers
[6] National Association for the Education of Young Children: Holding on until help comes: A survey reveals child care's fight to survive
[7] Zero to Three: How COVID-19 is impacting child care providers