Take Action!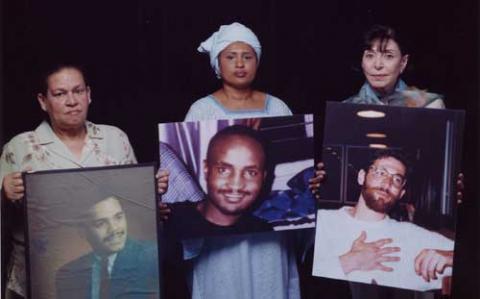 We can no longer breathe.
"I can't breathe."
Those were Eric Garner's last words, repeated 11 times, after being put in a chokehold by a New York City police officer. He gasped these words repeatedly from the ground, as bystanders watched and videotaped the scene in horror.  The use of chokeholds is a violation of New York City Police Department policy.
 The medical examiner ruled Eric Garner's death a homicide. 
Yet, a Staten Island Grand Jury refused to indict NYPD Officer Daniel Pantaleo for 43-year-old Eric Garner's death, just weeks after a St. Louis Grand Jury refused to indict Ferguson Police Officer Darren Wilson for Mike Brown's death. These cases are part of an overall pattern of non-indictments across the country.
What does it mean when a Grand Jury won't indict someone—and how does racial profiling fit into the big picture? 
 First of all, it should be noted that
federal Grand Juries indict 99.99 percent of the time
. An indictment isn't the final legal proceeding in a case, it simply means that a Grand Jury, which by law operates in a closed session, will allow a case to go to a full public trial. However, Grand Juries, at the state level, often do not indict police officers, who have been largely immune from any charges in killings.   
This is a national crisis! 
Eric Garner and Michael Brown's deaths are just two examples of the many lives shattered by racial profiling and police brutality. Just last week, unarmed Akai Gurley was shot and killed without warning by a member of the the New York Police Department. The officer who shot Mr. Gurley
told police officials it was an "accident" and that he was "nervous."
However, instead of immediately making a call to get emergency medical attention to Mr. Gurley, Officer Liang contacted his union representative. Ultimately, a neighbor called an ambulance. Akai Gurley's mother and 2-year-old daughter will never see him again. 
Mothers should never have to fear that our children could come to harm at the hands of those charged with protecting them.  And yet, Grand Jury after Grand Jury have failed to indict police officers, which reinforces the all too familiar narrative of lives cut down by those entrusted with protecting and serving -- a story of racial profiling and police brutality. 
Across the country, we need a higher standards of policing, with strengthened accountability mechanisms, and critical reforms that end biased racial profiling, police brutality, and militarized policing targeting African American and Latino youth, families, and communities.
*Join us -- and ColorOfChange -- in calling on the U.S. Department of Justice to take action by signing on our open letter: http://action.momsrising.org/sign/justicebrowngarnerall/
The Department of Justice (DOJ) and President Obama have a duty and responsibility to protect all communities against discriminatory policing tactics and violence, especially when local prosecutors fail to do so.  The DOJ has the power to make these cases, and all similar cases, to proceed to a public trial. National reform is needed to prevent racial profiling and police brutality, as well as to hold officers accountable for abuse.  
Garner's death—and the subsequent refusal of the Staten Island Grand Jury to hold the police accountable—have ignited a massive outcry across our nation as people are flooding the streets
in dozens of cities this week
 with eloquent and peaceful protests.
For those of us who are already in motion, thank you. For the rest of us, let's make sure we really hear Eric Garner's last words of, "I can't breathe," and the moral call to act that they represent. They're hard to take—but that doesn't mean we can turn away.
Together, we are a powerful force! 
PS - If you haven't already, please listen to the devastating audio of Eric Garner's final moments. His last words ring as a call to all of us—to pay attention and to act.
Listen and share the audio of Eric Garner's last words.