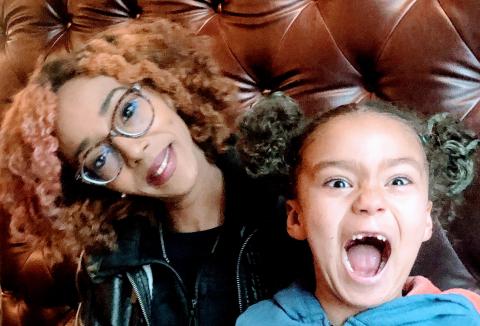 We can afford to take our FMLA now
As I sat on the chair in my midwives office, I wasn't certain what an insufficient cervix was but I was certain that it wasn't good. It was December 2012 and I was 20 weeks pregnant with my first child, and I was completely unprepared for this news.
Ironically, I had planned every other aspect of how my pregnancy and post-partum days would play out. The moment I found out I was pregnant, I had cut out all processed and junk foods. I had planned that my child would be cocooned in an environment of optimal health. I fastidiously drafted (and re-drafted) my birth plan. Oh my, what a plan it was. Every detail was accounted for; I hand selected each song on the playlist of music that was to welcome my child into the earth. The positioning of my husband in the room was revisited several times with my care team – he must be near my head pre-crowning and then down in "catch-position" as soon as the baby crowned!
My almost obsessive planning and tracking was initiated right after I told my employer that I was pregnant. After the excitement wore off, my boss told me in an almost hushed manner that I'd better start "saving up" all my sick leave now. Why I wondered - didn't FMLA provide me with 12 weeks paid leave? She laughed and then caught herself quickly when she noticed I wasn't. She explained to me that FMLA provided me 12 weeks protected leave. If I expected (read: needed) to keep a regular flow of income during that time, I'd better start saving up all my sick leave now. It was an educational experience for me because I had previously assumed that FMLA provided 12 weeks paid leave. I found solace in other new moms who also told me that they first learned that FMLA did not provide paid leave until they were pregnant as well. I shrugged it off as another one of those new (seemingly hidden) truths I'd learn on my journey to motherhood.
Over the next couple of months, I did my best to save up all my leave. Baby Moon? No way. When I got sick, which was often when I was pregnant, I still dragged myself into work – I couldn't afford to "waste" my leave when we were depended on keeping an income flow postpartum.  
Fast forward a couple of months, I am sitting in my midwives office completely stunned as she explains that my cervix was so small that it was almost immeasurable. This was a sign that I could go into pre-term labor at any moment. A pre-term labor at that early stage, 20 weeks, would almost certainly mean my child would not make it. My care team developed a comprehensive care plan for me, I was prescribed hormones, and was to come back in for ultrasounds and stress tests weekly (multiple times each week in fact). I was also put on bedrest…for the rest of my pregnancy. I left the office (essentially) grieving the life of my unborn child – at that time, I was convinced that I'd never meet her.  
My new care plan meant that I would be averaging almost 2 clinic visits per week for the remainder of my pregnancy; I would quickly burn through all of the sick leave I had so diligently saved up over the past several months. Further, there would be no way for me save up any additional sick leave. Now, not only did I mourn for my unborn child I mourned for the loss of bonding time that I'd have with her -- if I did ever get to meet her.
After over 20 weeks on bedrest, I am so happy to say that I did eventually get to meet my child. I was so grateful for the time that I had to bond with her, but it was demoralizing to separate from her so quickly. I had to return to work when she was just 10 weeks old. Although FMLA provided me with 12 weeks of job protection, between all of the bedrest and extra medical appointments, I had spent out all of the sick leave I intended to use before I even gave birth. I literally couldn't afford to take advantage of the full 12 weeks protected for me under the federal FMLA.
At that time, I vowed to advocate for better (and paid) family leave policies. I realized that in spite of our planning; there are too many uncertainties when it comes to welcoming a new child into your life (either through birth or adoption). Washington State's new Paid Family and Medical Leave program will ensure that all parents, regardless of their health state, income, race, or ethnicity, have a more equitable access and ability to take their full 12 weeks of leave to bond with their new child.