We Are MomsRising!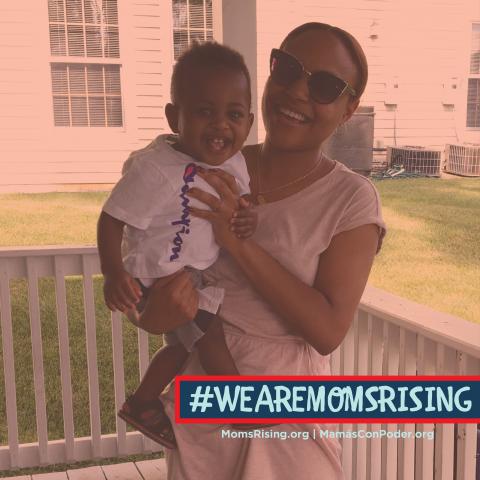 We Are MomsRising, Te'Jal from Ohio
In today's installment of We Are MomsRising, we talked to Te'Jal in Ohio about what it is like to be a mom in 2018. Read her story below. To learn more about the We Are MomsRising campaign, check out this blog post.
We didn't have any [high-quality early learning] programs that met our standards in our area. So we went to the next city over. We're broke but we felt like it is worth it to pay whatever we've got to pay to make sure Luke had someone taking care of him and that they're giving him nutritious meals. We felt that it was worth it to pay to make sure the center has everything they need . I made sure to get along with the teachers and that they know me. I make sure we have conversations and check-in to see how they're feeling. That they're happy with their jobs and stuff like that.
I want them to treat Luke well. My son is black. I'm really nervous about implicit biases and just how the world is right now.
It kind of makes me nervous just to have him in a space where he looks different from everybody. So I just try to you know spread love with the teachers and at the center so that they treat my son with the love that I treat them with. You know?
When I found out I was pregnant with a boy, I cried. There are mothers out there, I'm sure you've heard the stories, about young boys just being shot by police. And you know their parents can't do anything about it. So it's like there's nothing I can do as a mother except tell him the protocol. But we're seeing more of these instances where it doesn't matter what you do, you still get shot. It just made me really scared and kind of overprotective.  I'm very fearful.  I feel like when I am holding my son in my arms, I'm in the dark. I'm just like, you know, backed into a corner trying to make sure racism and all of this stuff doesn't hurt him or take him away from me. That's where I was and I am trying to get out of that mentality.
I once had a conversation with a mother whose son died at 22 from a car accident. I told her how I felt and, God bless her heart, she said, "I've been fearful my whole life and that didn't stop nothing so you need to make sure you toss that fear aside and you love on your son."  
I still feel like the most meaningful, precious moment I've had with my son was when he first smiled at me. Like before you are spending sleepless nights, breastfeeding and doing all of this stuff, and worrying. When  he smiled at me I realized "this is what all of this is for." It was his first interaction with me where I knew that he could understand what was going on and it was like a plug going into an outlet. From that point on, I really felt connected.