We Are MomsRising!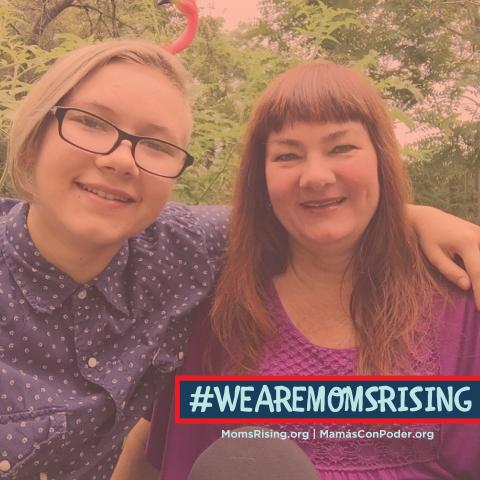 We Are MomsRising, Sheri from Iowa
In our third installment of We Are MomsRising, we talked to Sheri in Iowa who used SNAP while being a single mom and being in school. She recently graduated this May. Read her story below. To learn more about the We Are MomsRising campaign, check out this blog post.
There is this myth that people can just like, go back to school, like it's an easy thing. When you're a mom, especially a single mom like me, that's not the easiest thing in the world. And there's a lot of challenges that come with it especially when the school isn't helping me in that process.  I think it's important to show that it's not just so easy as, "Oh yeah I want to go to school." It takes a lot of hard work and it takes a lot of fighting unexpected challenges. 
Rental housing costs are really high especially in a University town and the financial aid packages are geared towards single people that don't have dependents. Then I have all these other costs involved with being a parent and my day-to-day living or whatever, that other students don't necessarily have. Making ends meet was difficult. I was using SNAP so I could provide healthy meals for myself and my daughter.
As an divorced single mom. I needed to use SNAP during that time also.
I had to go without a lot of things. I mean, we don't have a TV here. Or a computer. Or Internet access at home. I go without getting my hair cut. I go without all these kinds of things just to be able to balance paying for school and having time to actually spend with and raise my daughter.  If I hadn't had SNAP, it would have been even more sparse. SNAP literally made it so that we didn't have to go without healthy meals. Everything else had already been cut out. 
Kids these days, like in high school and even younger, all have different activities and all different things. Schedules are really crazy and all over the place. So it's really important to try to make sure that those family dinners happen when they can. It sounds silly but a long time ago in highschool I wrote a report about families eating dinner together and how that had an impact on kids' development. And so I've tried to make having family dinners always a priority in our life.