We Are MomsRising!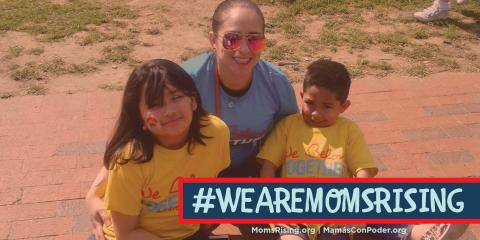 We Are MomsRising, Sheila from North Carolina
October is HeadStart Awarness Month. In today's installment of We Are MomsRising, we talked to Sheila in North Carolina about her experiences with Early Head Start and Head Start. Read her story below. To learn more about the We Are MomsRising campaign, check out this blog post.
My story with Head Start started with my daughter Jaslene. She was was in a regular daycare where I was paying tuition. I lost my job as a contract interpreter for North Carolina when my position was defunded. I no longer could afford the daycare she was in. 
My daughter was already receiving some services through some local CDSAs (Children's Developmental Services Agencies) due to her developmental delay and disabilities. I told the coordinator that I was working with what was going on and she advised me to apply for Early Head Start.
The coordinator helped me fill out the application which was very detailed and I had to put a lot of specific information in. Within  less than a month I got a call saying she was accepted. 
I really liked the program. They offered her important structure, and a regular daily routine, which is very important for her. Her teachers at the time also helped work with her goals and all her special needs. We all worked as a team for the best of Jaslene. She was doing so good. 
Head Start is not just about sitting in a classroom and being watched by adults. It is more about giving kids the tools they need to become independent. It is designed to help kids where they are at developmentally and help them grow. It is also meant to give the parents the tools they need to overcome obstacles. 
Later on, I found out I was pregnant. Having my daughter already enrolled in the program ended up helping me and benefiting my son. They give priority spots to siblings. I still had to go through the process and apply once he was born however but he did get a priority seat. They helped me find a doctor to provide the prenatal care I needed and a doula to help me through my pregnancy, to coach me through childbirth, and even to work with me after my son was born. I took the opportunity to go to all the workshops they offered and be a part of all the programs they offered. 
My son started at 8 weeks and it was really perfect for our family. I had already developed relationships with the center director and the teachers. 
At the time I was looking to go back to the workforce full time. I told the Head Start Coordinator that I was working with that I was trying to find a job. She told me that they were looking for a Health and Nutrition Coordinator for the program that my kids were in. She helped me apply for the position and I got hired!
It was really helpful to see how the program works behind the scenes. I also get to be an example for other parents of what Head Start can do for the whole family.
Without Early Head Start and HeadStart, my child would not have had the opportunity at early learning. Head Start really focused on Jaslene   and gave her what she needed to grow. I am so grateful for Early Head Start and I know that the families I have worked with are, too. I don't know what any of us would do without it.