We Are MomsRising!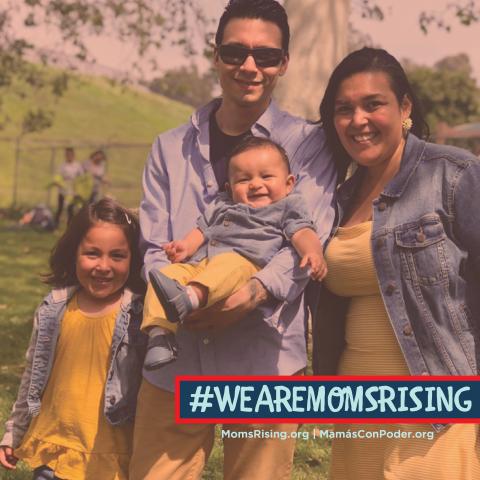 We Are MomsRising, Marysol from California
In today's installment of We Are MomsRising, we talked to Marysol in California about her experience of finding childcare for her two kiddos. Read her story below. To learn more about the We Are MomsRising campaign, check out this blog post. 
I'm a mother of two. I have a six year old daughter and 9 month old son. 
When it came to finding childcare with my six year old, I was able to take a year off work. After that time was up, I had to figure out what worked with our family dynamic. Luckily we had family to support us. 
As former dual language teacher, I always knew that I wanted to ensure that we gave our daughter the gift of language. I think for me, given my background in education, I always over-analyzed our home environment, wanting to make sure that she was completely immersed in the language. We had a Spanish only rule in the house, but we quickly found ourselves in this natural code-switching mode. 
Then we tried a simultaneous dual language model at home, where Mami would be the Spanish-only speaker, and Papi would be the English-only model. However, once I went went back to work, language became an issue again. While most of our family is also bilingual, my sisters and step-dad are not as fluent. My mom helped me watch my daughter while I was at work. So, quickly I noticed my daughter picking up English and her vocabulary was expanding. She was selective with language. Some words and phrases she said in Spanish, while others she preferred to say them in English.
I didn't want to give up, but I worried. I worried that I had failed. My little 2 year old wouldn't become bilingual and would reject the language that I love so much, not reap the countless cognitive and social benefits of being bilingual! What's a bilingual mama to do?!
Put her in Spanish Immersion preschool, of course! 
So we looked around in our area and found a dual immersion program at a little school. We had her in for three years and now she is in full day kindergarten going into first grade.
With my son it was trickier. We intended to do the same with him and for me to take a year off of work.  But due to some policy changes at my husband's work, I had to go back to work sooner than expected. This meant struggling for childcare and relying on the support of family members even more.
I am an early childhood advocate because our kiddos are the future! I feel that the 0 to 5 age range is so critical for development and that we have to ensure that we have the best for them and are setting them up for the best future possible.