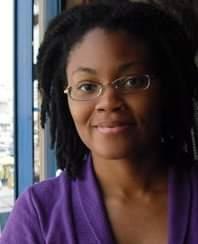 We Are MomsRising, Markisha from New York
In today's installment of We Are MomsRising, we talked to Markisha in New York about how the Child Tax Credit helps her family!  Read her story below. To learn more about the We Are MomsRising campaign, check out this blog. 
As a stay-at-home mom of two young children, our family is on a tight budget. I am an avid couponer and we work hard to lower our expenses. We never take vacations, unless it's to attend a major family event which may happen once every few years or so.
We live for our children and most of our income goes to meet their needs. . We just hope that we can provide them with the experiences that help to make them successful citizens in the future. Without the Child Tax Credit, our family would truly be losing out on much needed income. We realize that these programs benefit more than just us. We are proud that we reinvest our dollars in our local community. 
We live paycheck to paycheck. It's helpful to have some other income coming in. We use it for basically everything - from groceries to my oldest daughter's ballet class, which we can barely afford. 
I'm currently a stay at home mom, but I'm looking for work. If these credits were raised - particularly the Young Child Tax Credit - I would definitely, definitely put it toward child care expenses. We live in New York City, and are grateful that when your kids are four they can go to PreK for freeThey started rolling out 3K, but right now it's only in the most needy communities - it's not here yet. Being a SAHM is a full time job, and applying for jobs is a full time job. It's really stressful. More money coming in, would mean that I could potentially afford childcare even a few days a week; Therefore, giving me a stress free environment to apply for jobs. And when I do get a job, I'm sure the majority of my paycheck would go to childcare anyway, so having more help with that would be really big for us. 
Increasing these credits would also mean I could put my kids in more activities. Right now, I can barely afford that one ballet class for my older daughter, but my youngest is also interested. I would love to have them involved in more extracurriculars. The skills those activities teach children - teamwork, developmental skills, coordination, learning to follow directions - they all help in school. Plus, you never know what they'll grow up to be. If they're interested in something, I want to be able to invest in them early to give them a good start and a fighting chance, because  their interests  may end up being their career. But even if it doesn't materialize into a career, that experience gives them different skill sets and confidence that they'll need from now through adulthood. Unfortunately a lot of that is out of reach for us right now financially.