Facebook Live Event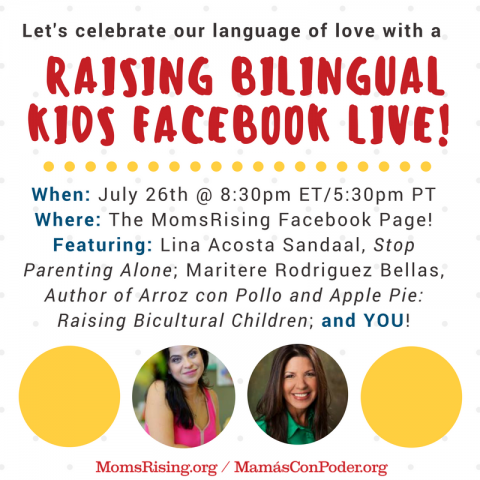 Watch MomsRising's Panel Discussion on Raising Bilingual Kids!
For many of us, our language is intimately tied to our culture, how we connect with our loved ones, and how we navigate our communities. But what does it mean to parent multilingual kids? 
Whether you're trying to navigate the ins and outs of raising a bilingual kid, aren't sure if you should be speaking more than one language at home, or are just curious about the brain science behind being bilingual - we've got you covered! 
Join MomsRising.org on Wednesday, 7/26 at 8:30pm ET/ 5:30pm PT for a Facebook Live Event with author and bilingual parenting guru Maritere Rodriguez Bellas and early childhood mental health specialist and founder of Stop Parenting Alone, Lina Acosta Sandaal. We'll be answering questions and sharing the latest in information and resources, so mark your calendars! See full bios from the presenters below. 
You can get updates and reminders on the event by folloing this Facebook invite. If you can't make it, but want your questions answered, drop your questions into the comments below and we'll do our best to get them answered.