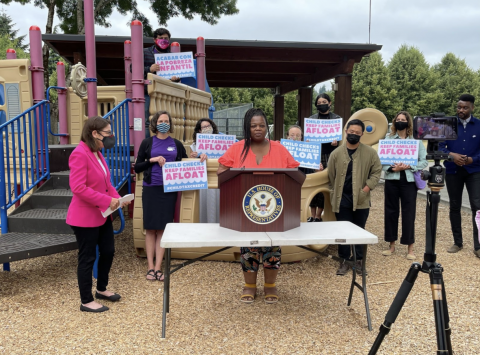 Washington State is Spreading the Word on the Child Tax Credit
Are you aware of the Child Tax Credit that launched on July 15th? Here in Washington State, we've spent a large portion of the summer partnering with our lawmakers and coalition partners to spread the word about this historic benefit and share the Child Tax Credit's impact - as well as the need to make it permanent! Check out some highlights below to see a bit of what we've been up to this summer! 
Last month, our MomsForce Fellow, Natasha, met virtually with Representative Kilmer and recorded a video discussing what the Child Tax Credit will mean for mothers and caregivers in Washington's 6th district. 
Earlier this month, our executive director, Kristin, along with representatives from the Washington Department of Children Youth and Families, Green River College, the Department of Veterans Affairs, the YMCA of King County, and Congresswoman Kim Schrier came together to highlight how families, businesses, the economy will benefit from the tax credit. 
Also, in the same week, our MomsForce Fellow, Shereese shared about the impact of being able to access these funds as a mother and caregiver to her family and community. She stood alongside Northwest Harvest, the Statewide Poverty Action Network, and Congresswoman Suzan DelBene at a press event in Tukwila. 
Right before the July 15th roll out of the Child Tax Credit, our MomsForce Fellow alum, Carolyn Soltaire joined Congresswoman Marilyn Strickland to spread awareness and more information about how to access the Child Tax Credit. 
The Child Tac Credit is MOMunmental, historic, and a step in the right direction in cutting child poverty in the United States by half.
To learn more about the Child Tax Credit right now, check out this FAQ we put together at MomsRising: https://www.momsrising.org/ChildTaxCredit 
Let's continue to get the word out about this expansion of the Child Tax Credit and how to access this benefit in our communities!