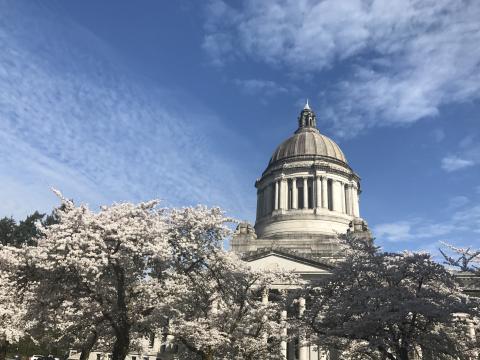 Washington Leaders: Don't deny women the right to fight for their own worth
MomsRising sent the following letter to the Washington State Legislature in regards to current equal pay legislation before the State House and Senate. Call your elected officials in Olympia to share your opposition to any form of preemption in the Equal Pay Opportunity Act 1-888-523-8974: 
Dear Washington State Leaders,  
MomsRising is so pleased to see the support and consideration for gender pay equity in the Washington State Legislature this year. As the last few months of public dialogue about women's experiences has repeatedly, and often painfully, highlighted, it is past time to address barriers that women face every day in the workplace. We know that you agree. That is why we are so proud of the leadership in all four corners of the legislature this session on paycheck transparency and gender-based job tracking. We are deeply concerned, however, to hear that some in the employer community are advocating that these important, but incremental, solutions should come at the cost of preempting any future action by local communities to help further close the wage gaps.
In our work in Olympia — and across the nation – to advocate for the security of working moms, women, and families we've seen preemption used as a handy political tool to stop policies, rather than as an expression of best policy practice, time and time again. It's alarming that this is coming up here now too and it shouldn't be part of the policy conversation. Importantly, these modest new equal pay protections have no impact on an employer's bottom line so long as they pay their workers equitably and fairly. We know from our years of work with small businesses and business leaders that most employers are already doing just that. This law will only affect bad actors who are perpetuating discrimination.
The gender wage gap is an issue entrenched in centuries of discrimination against women and people of color. Thanks to your leadership, our state has made significant progress towards closing that gap and lifting our economy by passing important new laws that protect pregnant women in the workplace, improve access to affordable, high-quality childcare and early learning, and will create a best-in-nation paid family and medical leave program starting in 2020. All of these policies will help women, families, businesses, and our economy thrive.
However, while these are important steps forward, none of these laws taken alone will solve the wage gap. Similarly, the Equal Pay Opportunity Act currently before the legislature will make important improvements to the state's equal pay laws, but it will not solve the issue of gender pay parity in one fell swoop.  
Preempting local governments' future actions on pay parity effectively denies women the right to fight for their own worth in their own democracy.
We insist that all pathways towards democratic solutions – whether at the local, state, or federal level – remain open to women and families. You can trust we will hold that position until women, people of color, and all marginalized communities have reached pay parity.
We know you will take action to protect women today while also protecting women tomorrow. Thank you for standing up for the women and families in our great state.