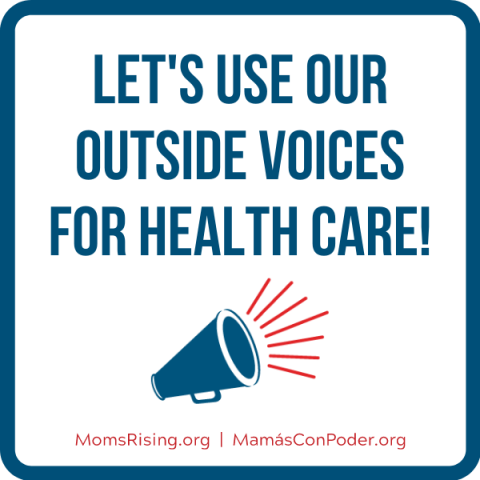 Want to help your community #GetCovered? Learn how
Great news! Last month, President Biden issued an executive order to reopen HealthCare.gov, the official health insurance marketplace, so that anyone who needs health coverage can sign up. Having just surpassed 500,000 deaths in the U.S. from COVID-19, [1] it is more important than ever for everyone to have health insurance so that they are covered when they get sick.
*Sign up now to help get the word out about this Special Health Care Enrollment Period! When you click, we'll send you a toolkit with resources to help spread the word about health care opportunities to your friends and family.
Under the previous administration, efforts were made to sabotage the ACA marketplace [2] and the number of uninsured people increased by 2.3 million from 2016 - 2019. [3] At the same time, they cut funding aimed to inform uninsured people about health insurance options. So, it is crucial that this new health care enrollment period under President Biden will be accompanied by a massive increase in funding to make sure people know about their new insurance options and how to sign up for coverage. This is a pretty big deal and we need your help to get the word out!
A few key details about the special health care enrollment period:
A new health care enrollment period in all 36 HealthCare.gov states began on February 15th and will end on May 15th.
You will NOT need to show a loss of health care coverage, or other major life change that is normally required to sign up outside the annual open enrollment period. (If you are uninsured, you should check out your options at HealthCare.gov right now!)
Consumers who enrolled in marketplace health care coverage during last year's open enrollment will have the opportunity to change plans during this enrollment period.
*Sign up now! Take action and help get the word out about open enrollment for health care coverage at HealthCare.gov.
We need your voice! The coverage offered at HealthCare.gov is comprehensive, and might be more affordable than you think - nearly 9 in 10 people who shop for coverage at HealthCare.gov qualify for financial help to cover monthly costs, and over 4 million people qualify for a $0/month bronze plan. [4]
Whether you recently lost health care coverage during the pandemic, or if you've been uninsured for a long time, you should take this opportunity to visit HealthCare.gov to see if you are eligible for low-cost coverage. We also need YOU to help spread the word about new health care coverage options on HealthCare.gov!
*Sign on now to help spread the word about open enrollment so everyone who needs health care coverage can get health care coverage!
Feeling stuck? Free, expert health care enrollment help is also available in every state. Consumers who are interested in getting covered but have questions or need help enrolling, can visit GetCoveredAmerica.org to schedule an appointment with an expert in their area.
Studies show that family (moms!) and friends are among the most trusted sources for information—and that people trust moms as much as doctors, for information about health coverage options. [5] So, your voice matters!
Together we are a powerful voice for the health of families.
P.S. How is COVID-19 impacting your family? We want to hear about it! Record a short video (under 90 seconds) for us here.
[1] NPR, 'A Loss To The Whole Society': U.S. COVID-19 Death Toll Reaches 500,000
[2] Brookings, Six ways Trump has sabotaged the Affordable Care Act
[3] Center for American Progress, Less Coverage and Higher Costs: The Trump's Administration's Health Care Legacy
[4] KFF, Marketplace Eligibility Among the Uninsured: Implications for a Broadened Enrollment Period and ACA Outreach
[5] Lake Research Partners, Informing Enroll America's Campaign, Findings from a national study