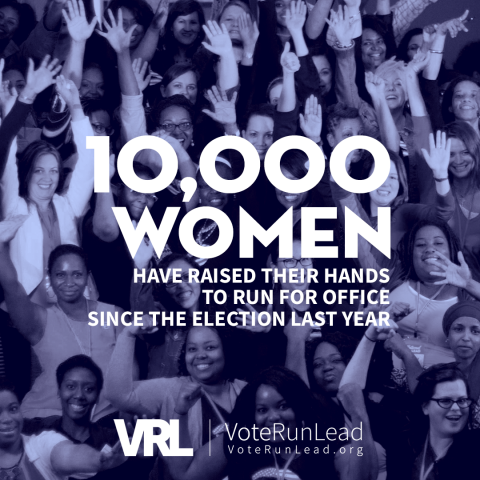 VoteRunLead Women Win, Make History, and are Everywhere!
The election results from November 7, 2017, are really exciting - and encouraging for women. In early results, 45 women trained to run for state and local office by VoteRunLead were on the ballot from Kansas to Minnesota to New York! And they're making history!
Thirty-one women who trained with VoteRunLead won their races. Sixteen are women of color, two are openly transgender, and together they represent 11 states. 24 of the 38 first-time candidates won their races! That's a 63 perecent win rate for newcomers, who usually only win 10 percent of the time. One will compete in a run-off election in December.
"The diversity of the VoteRunLead network is shining through," said Erin Vilardi, founder and CEO of VoteRunLead. "We're seeing success stories from participants in our one-day #RunAsYouAre trainings, like Andrea Jenkins, the first openly transgender Black woman elected to public office in the U.S., who won a seat on the Minneapolis City Council. And the incredible young women under 30 elected to local councils in Colorado, Nicole Castillo and Jenny Willford, trained at last year's VoteRunLead "Dare to Lead" conference in Denver. Amalia Duarte and Maureen Cunningham, both moms from the northeast, trained online with VoteRunLead after being motivated by last year's presidential election. Congratulations to them all and to all of the women who ran throughout the United States last night -- we are so proud of them!"
VoteRunLead, the nonpartisan training powerhouse for women seeking state and local office, has seen a surge of interest since last year's presidential election from women who want to run for office. In fact, demand for VoteRunLead's candidate trainings has been so high that the organization just celebrated 10,000 women who have signed up to learn how to run! In all, VoteRunLead has trained more than 3,000 women to run for political office and knows how to support women of all backgrounds. VoteRunLead's speakers and trainers understand that the values and life experiences of women, just as they are, make them exceptional candidates.
Congratulations to all the amazing VoteRunLead alumnae who ran!
Alicka Ampry-Samuel, New York City Council, NY
Andrea Jenkins, Minneapolis City Council, MN  
Amalia Duarte, Mendham Township Committee, NJ
Debbie Bookman, Coatesville City Council, PA
Lindsey Williams, Dover City Council, NJ
Julie Raynor, Malvern Borough Council, PA
Laura Goos, St. Joseph City Commission, MI
Jacqueline Whitney Lightcap, Auburn-Washburn School Board, KS
Beth Kowalczyk, Worthington City Council, OH
Maureen Cunningham, Bethlehem Town Board, NY
Sarah Stankorb Taylor, Wyoming City Council, OH
Emily Bridson, Brentwood City Commission, MI
Kris Ballerini, Supervisor, Upper Makefield Township, PA
Arati Kreibich, Glen Rock Borough Council, NJ
Nicole Castillo, Newton City Council, MA
Tara Gaston, Saratoga County Board of Supervisors, NY
Crystal Murillo, Aurora City Council, CO
Jenny Willford, Northglenn City Council, CO
Heather Raymond, Nashua Board of Education, NH
Gerri Cannon, Somersworth School Board, NH
Eunice D. Zeigler, Methuen East District Council, MA
Melanie Houston, Grandview Heights City Council, OH
Corey Minor Smith, Canton City Council, OH
Guyleen Castriotta, Broomfield City Council, CO
Alondra Cano, Minneapolis City Council, MN
Helen Rosenthal, New York City Council, NY
Emma Pinter, Westminster City Council, CO
Denise Schultz, Franklin School Board, MA
Diane Adoma, Stonecrest City Council, GA
Zuki Ellis, St. Paul School Board, MN
Rosie Loeffler-Kemp, Duluth School Board, MN
14 VoteRunLead alumnae who still fought the good fight:
Kristen Blood, Battle Creek City Commission, MI
Kristen Browde, New Castle Town Supervisor, NY
Tiffini Flynn Forslund, Minneapolis City Council, MN
Norah Burke, Matthews Town Commission, NC
Ruth Baranowski, Wheat Ridge City Council, CO
Chelsea Rothschild, Springfield Township Trustee, OH
Danielle Smith, Concord School Board, NH
Nadya T. Okamoto, Cambridge City Council, MA
Madeleine Giansanti Cag, Jersey City Council, NJ
Raeisha "RA" Williams, Minneapolis City Council, MN
Jillia Pessenda, Minneapolis City Council, MN
Lauren Crandell, Eden Prairie School Board, MN
Nicole Butler, Perry City Council, UT
Crystal Henson, Clyde School Board, OH
...and we're still counting!
And there were other "firsts" for women across the country:
Women of color ended election night with historic wins.
Kathy Tran
, daughter of Vietnamese refugees, was elected to the Virginia House of Delegates. With a seat on Iowa City Council,
Mazahir Salih
is now the first Sudanese woman to hold public office outside of Sudan. And after
the election of six women of color
, half of Boston's council will be made of women and people of color.
Latina and Black women came through strong
with
Vi Lyles
becoming the first Black woman elected mayor of Charlotte, North Carolina;
Sheila Oliver
becoming New Jersey's first Black lieutenant governor; and
Elizabeth Guzman and Hala Ayala
becoming Virginia's first two Latina State Representatives ever.
The LGBTQ+ community also saw huge victories.
Openly transgender candidates made history with
Andrea Jenkins
elected to the Minneapolis City Council, VoteRunLead alum Gerri Cannon winning a seat on the Somersworth, New Hampshire, School Board, and
Danica Roem
taking Virginia's 13th District delegate seat. In Seattle, Washington,
Jenny Durkan
became the city's first openly lesbian mayor. She's also Seattle's first female mayor since the 1920s!
In other great news
from Utah,
Michelle Kaufusi
will be the first woman elected mayor of Provo. And
Joyce Craig
became the first woman to be elected mayor of Manchester, New Hampshire.
And finally,
VRL alum Kristen Browde
was the first openly transgender candidate to be endorsed by a major party in New York State. Though the race didn't go her way,
her concession speech
was an example of true grace and class.
VoteRunLead is just getting started.
For other women who were inspired by the women who ran and are thinking of running for office themselves in the next few years, VoteRunLead has a three-day training November 17-19, #RunAsYouAre. Hundreds of women from across the country are expected to attend and will hear from inspiring speakers like keynote Ilhan Omar, the Minnesota Representative elected last year (and the first Somali American legislator in the country). Registration for the event is available at:
voterunlead.org/nationaltraining2017
. Sponsors include Target, Coca-Cola, Facebook, Rockefeller Brothers Fund, Dobkin Family Foundation, Women's Foundation of Minnesota,  Minneapolis Foundation, Barbara Lee Family Foundation, Wells Fargo Advisors, Eileen Fisher and VoteRunLead.org.
VoteRunLead.org is a nonpartisan nonprofit training powerhouse for women to run for state and local office, from rural areas to urban centers. VoteRunLead was founded by Erin Vilardi, formerly of The White House Project, to leverage technology and training programs to accelerate the number of women in civic and political leadership. Since the November 2016 election, VoteRunLead has seen an unprecedented number of women - 10,000 - signing up to be trained to run for office. To learn more, visit
voterunlead.org
or follow on
Twitter
,
Facebook
and/or
Instagram
@VoteRunLead.