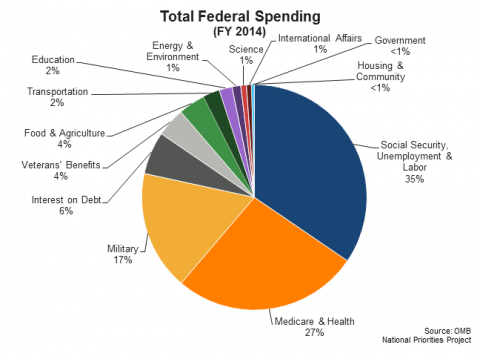 Voter's Guides 2014: Federal Spending and You
When you look at how our federal government spends money, do you see the priorities of your family and your community reflected?
Your own day to day priorities might include getting something on the table for dinner, volunteering at your child's cash-strapped school, scheduling doctors' visits, or worrying about whether your family earns enough to pay your bills, let alone save for college or retirement – or all of the above, at the same time.
Our Voter's Guides will help you get informed about federal spending on things like healthcare, education and social security, so you can make sure your priorities don't get lost in the political shuffle. 
Here are five things you'll pick up from reading our Voter's Guides:
1.      Education makes up only six percent of our nation's discretionary spending – the amount that Congress decides each year. But Americans say that education is one of their top priorities for the President and Congress. (See our Education Voter's Guide.)
2.      The federal Children's Health Insurance Program provides health insurance for over 8 million children in families that don't qualify for Medicaid. That's almost the population of New York City. (See our Health Care Voter's Guide.)
3.      Almost half of public schools receive federal funding for underserved schools through the federal government's Title I program. (See our Education Voter's Guide.)
4.      College is getting harder to afford. Pell grants, which help low income students pay for college, used to cover three quarters of the cost of a typical four-year public college. Today, a Pell grant covers less than a third of the cost, leaving families to make up the difference. (See our Student Aid and Student Debt Voter's Guide.)
5.      Social Security, which provides average benefits of about $1,300 per month to retirees, will have enough money to pay out all benefits until about 2033 without changing a thing. Even after that, it will be able to pay 77 percent of benefits with no changes whatsoever. You can also read about what changes to Social Security have been proposed. (See our Social Security Voter's Guide.)
Knowledge is power, especially when you take it to the voting booth.  Check out our voter's guides, and then make sure you, your family and everyone you know votes on November 4th!
Click here to go to our Voter's Guides on: