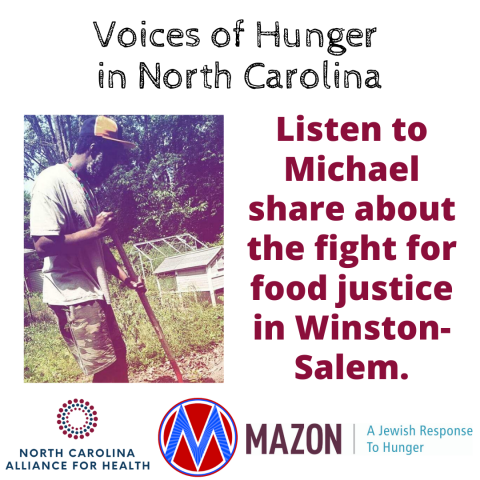 Voices of Hunger NC Podcast: Tune in and Follow on Spotify!
MomsRising and the North Carolina Alliance for Health, with support from MAZON: A Jewish Response to Hunger, have just released the 17th episode of our Voices of Hunger NC podcast. The podcast raises awareness about the extent of food insecurity in our state and offers the stories behind the numbers. People living with food insecurity interviewed for this podcast reclaim the narrative about who is hungry in America and why. By speaking out, they are removing the stigma and shame felt by many individuals who struggle to put food on the table. Their words reveal to us that the problem of food insecurity is systemic and entrenched, and that far too many people work hard and still struggle to feed their families. We want to personally invite you to listen, follow us, and share the podcast on the platform that works best for you: on Spotify, on Anchor, or on Soundcloud. 
Before the COVID-19 pandemic, 1 in 7 people in North Carolina-- and 1 in 5 children-- struggled with hunger. The number of people living with food insecurity has only increased over the past few months; many of the more than 1 million North Carolinians who have recently filed for unemployment benefits now find themselves needing food assistance for the first time. Now that the epidemic of hunger has grown alongside the coronavirus pandemic, it is time for us to pause and listen to the people who have been most impacted. For example, you will hear from Diana, a first-generation college student who balances her time between schoolwork and finding affordable, accessible food.  And you can listen to Liz's story about how helpful it is that her children are able to access free- and reduced-price school meals. 
We also lift up and share the stories of grassroots food justice champions and food access innovators across the state, showing what is possible to reduce food insecurity. This week's episode features Michael Banner, a Winston-Salem urban farmer working towards food justice in his neighborhood.  And meet Carl, Jakki, and Victoria, who share in this three part, pre/post COVID-19 series, how the Greater High Point Food Alliance is working to alleviate hunger and develop more just and equitable food systems. 
By listening to the voices of diverse people from across the state who have experienced times of food insecurity, we hope to help other families feel less alone in their struggles.  And, moving beyond awareness, this podcast offers listeners the tools to become informed anti-hunger advocates. Together we can shift the narrative around hunger and food insecurity, lifting the shame and stigma so that we can address the root causes of hunger. First, we listen.  Then we make changes, following the lead of the people who have been impacted most by food insecurity. 
In addition to raising up the voices of our fellow North Carolinians' experiences with food insecurity, our organizations have also had a productive legislative session. In the COVID-19 specific session, we successfully advocated for $75 million to be allocated to school meals for vulnerable children, $6 million for the NC Feeding America Food Banks, and $2.5 million for a produce prescription program. Additionally, we successfully advocated for NCDHHS to apply for all available waivers for child and congregant feeding programs.
There's still much work to be done, and we need your help. Take one step to end food insecurity today by tuning in to our latest episode and sharing with a friend!