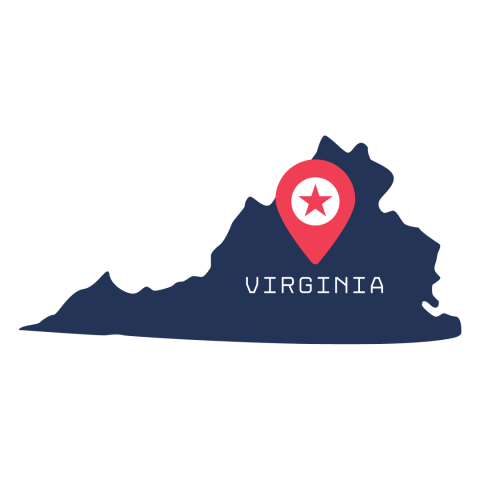 Virginia, Ready, set, VOTE!
Ready, set, VOTE! Virginia: It's time to get ready for the upcoming November 2022 election! 
The November elections are critically important – and there's a LOT at stake for moms and kids. So we at MomsRising are working hard to share as much relevant information as possible to help you have a great (fun!) plan to vote on or before November 8th, activities to bring kids with you to vote, as well as tools for you to help remind others to vote!
Below you'll find: Key dates, voting and voter registration resources, tips on making a plan to vote, fun activities to bring your kids with you to vote (Yes, you can be a voter and raise a voter, and… have fun all at the same time!), as well as actions you can take to help get out the vote. 
Who should you share this information with? Well, everyone, and especially friends and all the newly eligible voters (aged 18 and up) you know! Only about 40% of registered voters vote in midterm elections, so talking with friends is key. Further, it's estimated that over 8 million young voters will be newly eligible for the 2022 midterm elections. Unfortunately, a recent survey showed that 22% of youth ages 18-21 said they had not registered to vote because they didn't know how.
This is where you can help! Make sure all the friends and newly eligible voters in your life know how to register to vote, and help get them registered – and help them make a plan to vote! Nationwide, there may have been changes in state voting laws since the last election, so it's important for EVERYONE to make sure they're registered, ready to vote, and… have a fun plan to vote. Bring kids! We have fun voting activities for kids too! :) All the information you need is below.
Key Dates:
September 23 - November 5: In-person early voting at your local registrar's office
October 17: Registration deadline (Voters may register after this date, through Election Day, and vote using a provisional ballot)
October 28: Deadline to apply for a ballot to be mailed to you. Your request must be received by your local voter registration office by 5:00 p.m. Return ballot by mail postmarked or in-person by November 8.
November 8: In person voting deadline
To Do: 
Voting Resources:
Make a Plan to Vote:
Find out about your state's laws about taking time off to vote.
Make a plan to vote by putting it on your calendar, scheduling time to go vote with friends, telling your kids you'll bring them with you on a fun voting adventure, and/or looking up your poll location. 
Make voting fun for you and your kids with our crafts and activities as you bring your kids with you to vote. Be a voter, raise a voter!
If needed, find out if your employer will give you time off to vote. If there is no policy, ask them to join the growing number of employers who are pledging to give employees time off to vote.
Take Action:
Help us reach more than 1 million moms by contributing funds for printing and postage for our postcard campaign!
Please help us spread the word about these voting resources by sharing this information with your friends and followers on social media!
Let's make this election MOMumental! It is time to get out the vote and make our voices heard!