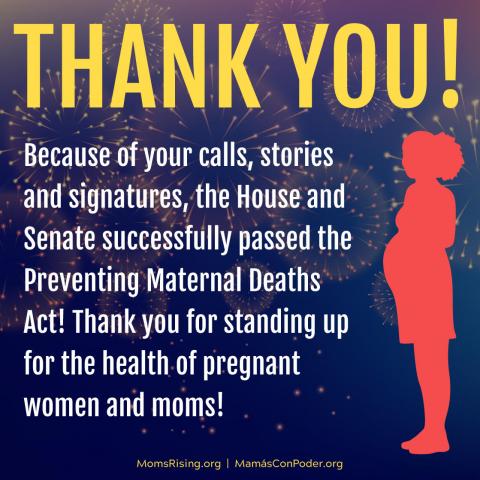 Victory! Maternal Mortality Bill is Now Law!
Have you heard the good news? Because of your actions, we achieved a big WIN for maternal health!
This week Congress passed the Preventing Maternal Deaths Act, and right before the holidays, it was signed into law by the President. This is an incredible, powerful and groundbreaking win for pregnant women and moms throughout our country. And it happened because of our incredible MomsRising members.
Every year in this country, 700 - 900 women die from pregnancy or childbirth-related causes, and some 65,000 suffer severe complications. Black women are three to four times more likely to die from pregnancy complications than white women, independent of age, parity or education. The Centers for Disease Control and Prevention estimates that 60 percent of maternal deaths in this country are preventable. And, according to the World Health Organization, we are the ONLY industrialized nation in the world where maternal deaths are rising, not falling.
The Preventing Maternal Deaths Act was introduced in 2017 to improve these troubling statistics. One of the biggest barriers to maternal health was that there was no uniform way to collect data nationally about why our moms are dying so that we could do something about it. Some states had data, while others did not, and in the meanwhile, pregnant women were dying from preventative causes.
Enter this bill, which establishes a program to help states review maternal deaths, establishes and sustains a maternal mortality review committee, supports a plan to educate health care providers to improve maternal care, and improves information collection on maternal deaths and provides for public disclosure of this information. It offers hope for addressing the factors that lead to the deaths of so many Black mothers and the stubborn racial disparities that continue to plague our healthcare system.
In short, it's a very good bill -- and it passed!!!
It's not an accident that it passed. In fact, this legislation would not have passed without YOU, your support, your actions, and your stories. Your voice is powerful and you were heard. Hundreds of you submitted stories from almost every state for our Maternal Health Storybook, tens of thousands of you signed petitions, made calls, attended meetings, joined us in our monthly #MaternalJustice Twitter chats and so much more. You called your electeds this past July when this bill went to the Energy & Commerce committee in the House, and with your support, we were able to amplify our testimony to the committee for this bill. In fact, just last week when the bill was being considered in the House and Senate, our members made 573 calls to urge their members of Congress to pass this. We also drove the point of prioritizing the lives of pregnant women and moms by delivering your stories and 19,000+ signatures to Congress. They took action because you raised your voice and made sure you were heard!
The power of the movement for maternal health is truly in the power of these stories, from the strength of Charles Johnson in never backing down from sharing the tragedy of his wife Kyira Dixon Johnson's preventable maternal death in 2016, to our own Patrisse Khan-Cullors sharing her powerful birth story, to the hard work and dedication of birth workers and activists like Anaya Sangodele-Ayoka, these narratives were crucial in successfully pushing a bipartisan bill to become law.
We were also able to uplift the need to prioritize maternal health, especially the disparities Black women face through media hits. MomRising Senior VP, Monifa Bandele and Senior Fellow Patrisse Khan-Cullors were interviewed in various news outlets such as NBC News, The Washington Post, Essence and Vox, among others. 
As we move forward in 2019, we know that this victory is the first step toward the progress we need to see to save the lives of pregnant women and moms. There has been legislation introduced which directly addresses the racism that is killing Black mamas. If you haven't already please make sure to sign here to show your support of the Maternal Care Access and Reducing Emergencies (CARE) Act (S.3363) and the Modernizing Obstetric Medicine Standards (MOMS) Act (S.3392).
We are also always collecting stories, if you have a birth story of you or a loved one please do submit it here, and if you have a C-section story, you can share it here.
And let's not forget to keep the MOMentum going! Your actions, your kindness, and your generosity matter so much to women, moms, and families who benefit from the MomsRising movement. *Can you power up our 2019 maternal justice campaign and keep our winning MOMentum going? Every dollar counts! Your gift will be matched until the end of the year. Click to contribute!
Again, thank you so much for being a powerful voice for the health of moms. We couldn't have done it without you.
P.S. Check out our statement on the passage of the Preventing Maternal Deaths Act.