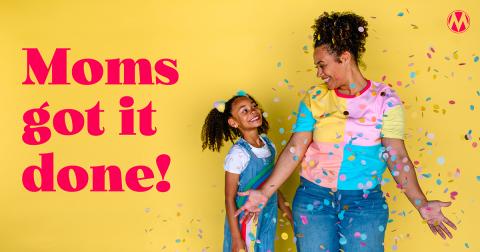 Victory in Washington State!
We don't get to do this often, but we are sharing some VERY GOOD NEWS! The Washington State Legislature just wrapped the 2023 legislative session, and there were a number of major victories that MomsRising members made possible this year. 
Help us say thank you to state lawmakers by signing our thank you note here!
Last night the Washington State Legislature ended their annual legislative session - a 105-day gathering of elected leaders from across the state where lawmakers are charged with passing a new state budget and considering new legislative proposals. MomsRising members hit the ground running in January when the legislative session began. We engaged with lawmakers directly at a statewide townhall in December, sent the MomsRising legislative agenda directly to lawmakers, and mobilized in strong support of our priority bills and budget requests. Throughout, MomsRising staff were on the ground in Olympia working with lawmakers and coalition partners to keep our priorities moving.
None of this would have been possible without the support of state lawmakers. Can you help us by signing our thank you note to lawmakers here?
All of this work added up to some BIG results! As the legislative session comes to an end, MomsRising is celebrating that all but one of our policy bills passed into law AND the 2023-25 state budget includes much-needed investments in early learning and childcare, paid family and medical leave, and the Working Families Tax Credit. 
Unemployment insurance for caregivers (HB 1106): Allows for caregivers to receive unemployment insurance if they lose their job due to child care or care for a vulnerable adult becoming inaccessible. That means if your boss changes your schedule from daytime to the night shift and you have no choice but to quit - you can now collect unemployment insurance while you look for a new job. If your child care center suddenly closes and you have to quit - you can collect unemployment insurance once you're looking for work again. MomsRising has been fighting for these changes for six years - we are celebrating big! (Read more in The Seattle Times here)
 
Child care access for childcare workers, immigrant families, and families in therapeutic courts (SB 5225): This bill is a HUGE victory for child care and child care workers in our state. It does not one, not two, but three big things for families. First, it provides free or $15/month child care through Working Connections Child Care vouchers for child care employees. You read that right - $15 a month! This is a much-needed recruitment and retention tool to keep money in the pockets of early childhood educators. SB 5225 removes the harmful exclusion of children who are undocumented from the Working Connections Child Care program - a change that will be life changing for immigrant families. Lastly, this bill will help families navigating the therapeutic court system (mental health court, veterans court, domestic violence court, etc.) to help keep families together and able to receive the care and support they need. 
 
Expanded access to the Working Families Tax Credit (HB 1477): The Working Families Tax Credit has already put $65 million back into the pockets of working families since February! This is huge but we know it's just the beginning of our work to make sure every family has what they need to put food on the table, a roof over their head, and peace of mind. HB 1477 will support this goal by allowing families to apply for the credit up to three years after qualifying and allow for married filing separately filers to receive the credit - a filing status often used by survivors of domestic violence. 
 
Ensuring Paid Family and Medical Leave's longterm financial health (SB 5286): The state's paid family and medical leave program has been a lifeline for hundreds of thousands of families. This is huge, but with the COVID-19 pandemic and an unprecedented economic environment, the program faced a structural deficit. The good news is that SB 5286 creates a new rate-setting formula that will ensure the rate-setting formula and process are best aligned with the program's usage. 
Each of these wins are huge and represent a major victory in their own right. Yet, that's not all we are celebrating as we wrap up the legislative session. The very last order of business for the state legislature is passing the 2023-25 state budget. Budgets are moral documents and decide how or if communities get the resources they need. This session lawmakers invested big for families: 
$385.9 million in state funding and $110.3 million in federal funding for Working Connections Child Care: Importantly, this funding will increase the payment child care providers receive from the state when they accept the state's subsidy program Working Connections Child Care - money that is critical for providers struggling to keep their doors open right now. This also includes funding to increase the bonus to child care workers who provide care outside of weekday business hours.
 
$84.4 million to enhance ECEAP, the state's preschool program: Little learners across our state get a strong start thanks to ECEAP, a top-quality preschool program funded by the state. This funding will convert 2,000 part-day ECEAP slots to full-day slots! It also increases the rate providers receive for each student and puts the state on track to meet ECEAP entitlement by 2026.  
 
$33.9 million for early learning grants, including the complex needs fund: New funding for early learning equity grants for tribal early learning providers and additional resources for the complex needs fund, a resource that promotes inclusive, least restrictive environments and supports providers serving children with developmental delays, disabilities, behavioral needs, or other unique needs. 
 
$533,000 to develop a living wage roadmap for child care workers: Childcare providers do some of the most sacred work - taking care of our children. They deserve a living wage that allows them to provide for their own families and grow in the profession. This budget item will create an action plan for a state system that ensures living wages for early childhood educators.
 
$200 million to ensure the Paid Family and Medical Leave (PFML) program's longterm financial health: In addition to passing SB 5286 (more details up above), lawmakers also appropriated $200 million to the PFML program to create a reserve fund. This will ensure the program remains solvent and can continue to pay benefits between collection periods AND doesn't rely on higher premiums from workers to create it. 
 
$250,000 to study the impacts of PFML's job protection standards: While PFML has benefited many, it still has a long way to go to becoming the program we know it can be. One of the biggest barriers to access that we hear about at MomsRising is the program's lack of job protection for many workers, especially low-income workers. We are working to change this, and to do that we need high-quality data to make our case. That is why we are thrilled that the legislature funded a study at the University of Washington to examine this issue. 
We made this happen together. Our shared work is making a meaningful difference for families across Washington - we hope you will join us in celebrating these wins that you helped make possible. 
Thank you for all that you do!