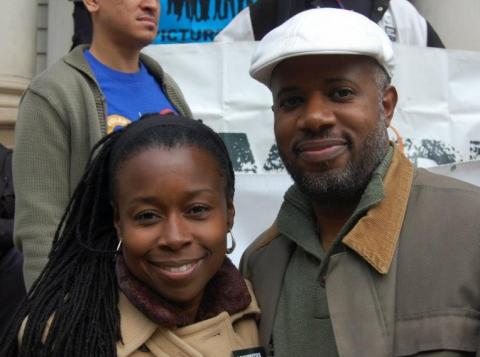 via Ebony: The Coolest Black Family in America, No. 40
Congratulations to MomsRising.org Senior Campaign Director Monifa Bandele and her husband Lumumba Bandele on being named one of Ebony's "Coolest Black Families in America"!
Check out the spectacular Ebony profile article below that spans from activism to romance, to having and raising kids, to making your own rules, and more. It's a must read:
Ebony: The Coolest Black Family in America, No. 40: The Akinwole-Bandeles
April 21, 2014
Love is the most revolutionary act of all. Just ask Monifa and Lumumba Akinwole-Bandele, our social activist coolest family number 40
By Alexandra Phanor-Faury
As a young girl growing up in Brooklyn, New York, feminist and activist Monifa Akinwole-Bandele always dreamt of being a revolutionary fighting on behalf of oppressed people all over the world. She never, however, pictured herself married with children. "I grew up thinking family has to be your priority, so I never thought I could have a family and be an activist," explains Monifa, who sits on the committee for Communities United for Police Reform, and is the campaign director for the pro-mom group, MomsRising.
It wasn't until she fell in love with her husband Lumumba and they had their two daughters—Naima (15) and Adasa (12)—that Monifa came to the realization that nurturing a loving family and the quest for justice aren't mutually exclusive.
Like Monifa, who watched her social worker mom organize a historical, successful rent strike against a notorious New York slumlord, Lumumba always knew he would be socially active as an adult thanks to his own father's heavy involvement in political activism. "My interaction with my father was spent over political work, not basketball games. His commitment to organizing had a big effect on me," says Lumumba.Raised in Brooklyn, his home was constantly abuzz with people and activity. "I don't remember a time when it was just our immediate family in our home," he says. "Everyone from exiled freedom fighters from South Africa during apartheid, a West African dance troupe, even Nina Simone lived with us," recalls Lumumba, who works as the senior organizer for the NAACP Legal Defense Fund and teaches community organizing at Lehman College. Both Lumumba and Monifa are members of the Malcom X Grassroots Movement. "We are aware that we have a responsibility to our community that is bigger than us," declares Monifa.
Their dedication to social activism is the glue that brought them together.
A 19-year-old Monifa met 18-year-old Lumumba when she took part in a youth organizer's training conference at the Caribbean Culture Center, where Lumumba was working. Both were immersed in hip-hop activism as teenagers and quickly became close friends. "The more we worked together, the more I realized her commitment was something to be in awe of. I found Monifa to be somebody who would go above and beyond what the typical teen was interested in doing," says Lumumba.
Back then, hip-hop activism was the cause célèbre, and it was easy to filter out the posers. "Monifa's passion was genuine. Just to hear her speak and articulate a vision to our folks was always so impressive. I found it very attractive, and she was pretty," adds Lumumba. "His intellect and affinity to plan and execute highly complex strategies were very attractive to me," says Monifa. "He has a beautiful mind, and his values were consistent with mine. Even as a teen I understood that was important."
*Read more at Ebony.