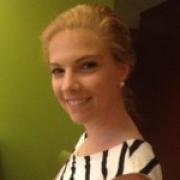 Madeline Shepherd
Madeline Shepherd is a legislative associate at the National Council of Jewish Women.
Blog Post List
The year after I graduated from college I waited tables and worked in retail, just like my parents always wanted. Kidding! Truth be told, I had always envisioned going to law school but hesitated once it came time to send in a deposit. I hadn't given much thought to the other options I had, and the commitment of so much time and money made me think twice. So after graduating Phi Beta Kappa, I donned an apron and slip-resistant shoes and got down to work. I learned a great deal over the next few months working at a restaurant. My coworkers had mostly grown up in the area and still carried...
A few weeks ago, almost 400 women from across the country headed to Capitol Hill as part of their participation in the National Council of Jewish Women's (NCJW) policy conference. And in more than 150 visits, comprehensive immigration reform was one of the key issues discussed with congressional offices. Over the course of the weekend, we had debated, discussed, and shared stories about several policy topics, including immigration and the need for reform, and talked extensively about immigration. From California to Minnesota, Florida to Ohio, women came to Washington and shared their personal...