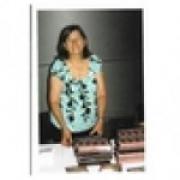 Betty G. Robinson
Betty G. Robinson is a community organizer and co-editor of Hands of the Freedom Plow: Personal Accounts of Women in SNCC.
Blog Post List
The We Belong Together women's delegation to Georgia last year was a powerful experience for me as we met with immigrant women there who are living in fear with their families as they deal with criminalization, racial profiling and police harassment. Georgia's new "get tough on immigrants law," had just been put into effect alongside the federal "Secure Communities" program. We heard heartbreaking stories from women who were afraid to call the police when they were victims of domestic violence, or who were afraid to drive to the store or doctor for fear that they would be stopped at a...
I am going to Georgia for the purpose of making the invisible visible. In the spring of 1960 while a college student, I read about African American students in the South sitting in because they were unable to be served at lunch-counters of national chain stores. I was shocked! I had believed my country was better than this. This outrage was made visible to me by a national media which daily covered the sit-ins. The knowledge of this injustice led me to organize a demonstration at a Woolworth's in upstate New York. Later I left my graduate studies to join the Student Nonviolent Coordinating...