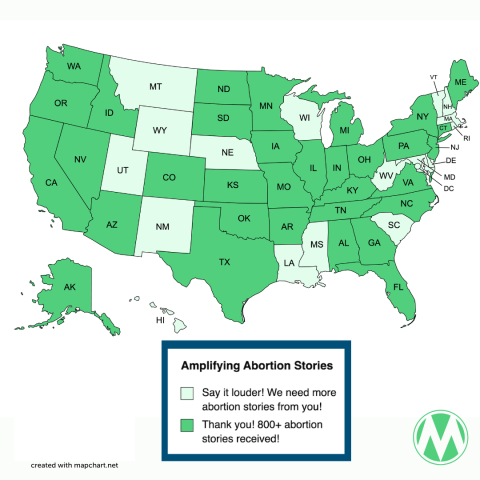 Use your voice! Help protect abortion services with your stories.
MomsRising, and members like you, have been taking numerous steps since receiving the devastating news that the Supreme Court overturned Roe v. Wade, making abortion services difficult or impossible to access in many states. You have been calling members of Congress, pressuring congressional leaders, governors, and the president to take urgent steps, donating to abortion funds, and marching in the streets.
Now we need you to share your abortion story with us! We are collecting abortion stories from across the country and want to make sure we amplify voices from EVERY state. Help turn our map green for Reproductive Justice!
***Share your story about why access to abortion care is important to you! (You can share anonymously if you would like).
Most women who have abortions are already moms. Being able to manage how many children we have, and when we have them, has been nothing short of revolutionary — not just for women and mothers, but for our country as a whole. Now, with Roe v. Wade overturned by the U.S. Supreme Court, that right has been lost or is at risk in many states, putting in jeopardy our health, economic stability, and basic liberties. That is why we need YOU to share your abortion story.
Personal experiences are powerful and can make a HUGE difference in helping our communities and elected leaders understand how public policies impact families. Now is the time to share how access or lack of access to abortion has impacted you and/or someone you love. We know this can be a difficult story to share for some people, but rest assured, you can share your story anonymously. 
MomsRising is putting together a storybook of abortion stories and right now we specifically need stories from Massachusetts. Can you contribute to our storybook by sharing why access to abortion care is important to you and your family?
People across the country are sharing their stories that are being included in this storybook. Moms like Kerry who writes: 
"I had a non-viable pregnancy before my two children and needed a D and C.....it was such a painful decision, but it would have been worse had I not had access to abortion services. I was in my early thirties and desperately wanted to be a mother. To not have to carry around inside my body (while so ill) something that would never become my baby was such a sad relief. I needed care, I got it without question, and was able to heal so I could go on to carry my eventual two daughters."
And Alex who writes:
"When I was 25 I got pregnant while on birth control. My boyfriend at the time helped me schedule an abortion. It was not an emotional experience for me in any way. I felt very certain that it was the right thing for me at that time in my life. I have never once regretted my decision."
**Can we include your abortion story in our storybook as well? (You can submit your story anonymously if you want.) After you submit your story, feel free to forward this email or our story collection page to anyone else that you think might want to share their abortion story with us