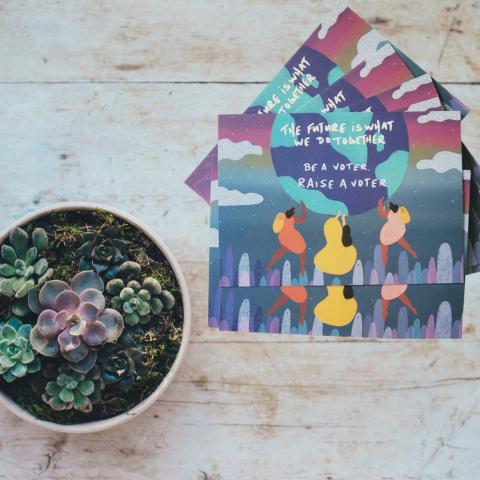 URGENT--> Postcard campaign needs support!
UPDATE: I have an exciting update for you on the note below: we've reached our NEXT goal and TWO MILLION handwritten voting reminder postcards will be sent to women and moms!
We urgently need you! Here are two quick ways to get involved:
1. If you haven't donated yet and you would like to support this groundbreaking work to reach women and mom voters, now is the time! You can donate here: https://action.momsrising.org/donate/Donate_Postcards_2020/
2. Interested in joining our postcard campaigns? We've got you covered! Sign up now to be the first to hear about our upcoming GOTV postcard writing campaigns! The future is what we do together: https://action.momsrising.org/survey/GOTVpostcards_future/
***
WOW! MomsRising supporters are stepping up to request postcards to help remind low frequency mom voters to vote this year in numbers exceeding anything we've ever seen before. We blew through our first (big!) goal of ONE MILLION postcards already!
And that means we're setting a new, bigger goal. We're ready to take our democracy to the next level and engage every possible voter! To reach the next million postcards, we need everyone to chip in what they can to support the work. (If you've already donated to the postcard campaign, THANK YOU! We are grateful. And if you can help us keep up the MOMentum for this next round of postcards, we need you now more than ever!)
Please chip in to support MomsRising's Mom-to-Mom Voter Postcards right now.
As you read this, our team is working diligently to search for and identify low-propensity mom voters-- moms who have voted at some point in their lives, but who will likely need some extra mom-to-mom encouragement now to get their ballots in for the upcoming November election. These are the exact moms who will receive handwritten postcards from MomsRising supporters. This is the work that's powered by your donations. This is the work we need your support for right now!
Please chip in whatever you can today to help get out the vote in November.
In this time of great change and upheaval in our nation, we have the opportunity to connect with each other, to encourage each other, and to make change. Let's do this!
P.S. Interested in joining future postcard campaigns? We've got you covered! Sign up now to be the first to hear about our future GOTV postcard writing campaigns when they launch! The future is what we do together: https://action.momsrising.org/survey/GOTVpostcards_future/