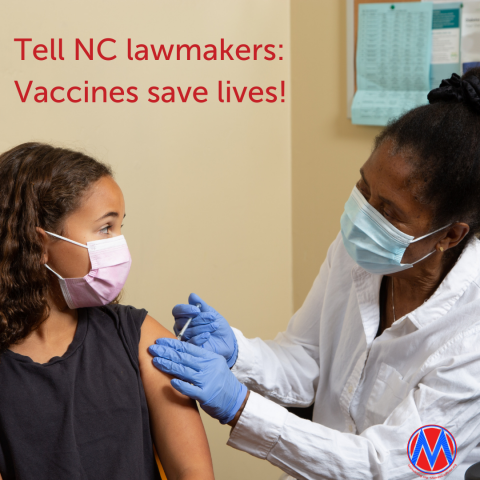 URGENT: North Carolina lawmakers considering a bill to outlaw vaccine requirements
There is a new bill that is dangerous for public health being considered by the NC General Assembly that needs your urgent attention! House Bill 558 would make it unlawful to mandate vaccinations against ANY illness for schools, child care, and health care professionals and settings—including COVID-19. If passed, this bill could negate immunization requirements, which would make NC the only state in the country without them.
Quick signature: Send your NC lawmakers a letter to tell them to vote NO on House Bill 558, which would prevent mandatory vaccinations for school children.
Not only would this bill change the public safety measures that keep our children healthy and communities thriving, it would also introduce a new philosophical exemption for vaccines and remove any requirement for written statements or documentation regarding immunization status. While there are already exemptions from immunizations for religious beliefs and medical conditions, expanding these exemptions would increase the risk of vaccine preventable diseases in children, individuals, and our communities.
Our communities have already suffered great losses over the past year due to the COVID-19 pandemic and our public health programs are underfunded and under resourced. This bill that would prohibit hospitals, nursing homes, and other licensed healthcare facilities from requiring staff to receive certain vaccinations will undermine the facilities' infection control and health and safety efforts. It puts staff, patients, and residents of these facilities—including those most medically fragile—at increased risk of mortality and negative health outcomes. With an increase in communicable diseases, health care costs are likely to rise, too.
Sign now: NC lawmakers need to hear that vaccines save lives!
This proposed bill threatens the public health and communicable disease infrastructure in our state that combat disease outbreaks. It is critical that our public health officials are able to take necessary measures to respond to disease outbreaks and prevent deaths from vaccine-preventable diseases.
Vaccines are rigorously tested by the U.S. Centers for Disease Control (CDC) and Food and Drug Administration (FDA) to ensure they are safe and effective. We have invested our tax dollars in these critical institutions that are highly respected across the world for generations in order to protect the health of our nation and our state. This is our investment in our future and in our health. We cannot allow our state lawmakers to roll the clock back on our ability to respond with public health measures that keep our communities safe and thriving.
Don't forget to send your NC lawmakers the message to vote NO on House Bill 558.