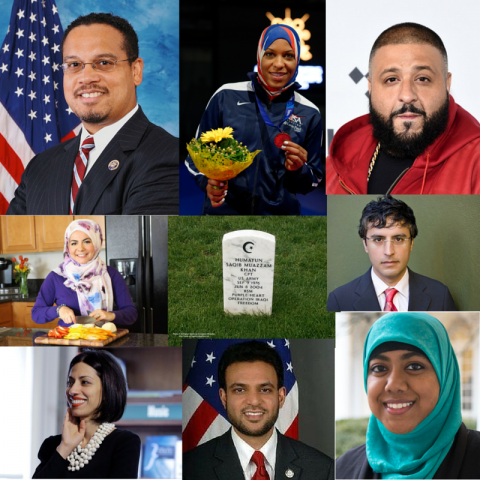 UPDATED: Celebrating the Contributions of Muslim Families in the United States: MomsRising Blog Carnival
Photo, first row from left to right: U.S. Representative Keith Ellison; Ibtijah Muhammed, Olympic athlete who is a member of the U.S. fencing team; and DJ Khaled. Second row from left to right: Masterchef's Amanda Saab; fallen U.S. Army Captain Humayun Saqib Muazzam Khan; and Iranian-American author, commentator and religious scholar Reza Aslan. Third row from left to right: Huma Abedin, political staff member who is Vice Chairwoman of Hillary Clinton for President; Rashad Hussain, attorney and U.S. Special Envoy to the Organisation of Islamic Cooperation; and Rumana Ahmed, White House Advisor.
Last week, communities around the world suffered violent attacks, including in Belgium, Turkey, Ivory Coast, Nigeria and Pakistan. The Muslim community is not only horrified by the twisted and extremist views of those who committed these acts of violence; but are also dying because of such acts of violence. 90% of the victims are Muslims.
My heart is with all who are affected by violence: with those who are left to pick up the pieces of fragmented lives; with those who are mothers like me and are faced with the challenge of raising children in this world that is increasingly violent. Humans should not be seeking to destroy or harm one another -- and yet, we wake up to these acts of violence too often.  
In the face of all this sadness and violence, may we as mothers, fathers, as people continue to join together to teach our children to be hopeful and to embrace all that is good and beautiful in this world. At a time when we turn toward our leaders for solutions and solace, instead too often politicians here in the United States have collectively blamed all American Muslims. This is unfair, inaccurate and harmful. 
It's time to take a pause. It's time to have a sister-to-sister chat. I want to thank MomsRising.org / MamásConPoder.org for hosting this very important blog carnival highlighting the cultural and economic contributions by Muslims to the United States.
There's been a lot of peddling of fear leading to anti-Muslim bias, but very little sharing of facts. Islam is the third largest faith in the United States. While Muslims can be of all colors and ethnicities, African Americans make up a quarter of all U.S. Muslims, and Latinos are now the fastest growing segment of our community. We are teachers and nurses. We serve in the U.S. Armed Forces, are U.S. Olympic athletes, members of Congress – from the heartland of this country no less! -- business owners – and social media influencers! We are your family members, your friends, your youth coaches and your neighbors.
I welcome you to read the below blog posts by Muslim writers and allies, leave a comment or two in support and share on your social media channels. Such an act may appear mild in today's political climate, but it lifts us all. 
I've been fortunate to be a part of this community with incredible people who are doing much needed work on healing our nation through social justice work. The humility and humanity of this community is the human story that I believe will prevail.
I believe in this community. I believe in you. And I believe in us.
Contributing Writers to MomsRising.org / MamásConPoder.org
"Navigating Identity and Family in a Climate of Islamophobia", by Kristin Garrity Sekerci, Proud Mom and Family Advocate
"Coming from peace: an open letter to Donald Trump", by Rais Bhuiyan, World Without Hate
"My Dear Muslim Son", by Hena Zuberi, MuslimMatters.org
"#NeverForget: My Son's 9/11 Homework Project | Remembering What They Want Us to Forget", by Hena Zuberi, MuslimMatters.org
"Fifteen Years of Hate, a Lifetime of Lessons", by Wendy Díaz, Hablamos Islam
"Quince años de odio, toda una vida de lecciones", por Wendy Díaz, Hablamos Islam
"Moldening the Hardened Heart", by Cordelia Gaffar, Workout Around My Day
"Teaching my passion", by Fahmeeda Hassan, Coppin State University
"Taqwa (Virtue) through Anti-Bias Education", by Margari Hill, Muslim Anti-Racism Collaborative
Food Blog Posts, Recipes
"3 Myths About Halal Food", by Yvonne Maffei, My Halal Kitchen
"An interview with Yvonne Maffei: Food Writer and Culinary Educator in the Muslim Community", by Khadija Gurnah, White House Champion of Change
"Healthy Ramadan Toolkit Features Champion Moms!", by Epyana Smith, Mount Holyoke College 
"Healthy German Apple Cake Recipe", by Sarene Alsharif, Healthy Plate 5 Program
Around the Web
"A MUST-SEE VIDEO: TED Talk with Dalia Mogahed, Institute for Social Policy and Understanding
"American Muslim Poll: Politics, Priorities and Prejudice in 2016", Institute for Social Policy and Understanding
"Does Islamic Faith Strengthen American Patriotism?", The Atlantic
"A-Force, Ms. Marvel Comics", by G. Willow Wilson, Marvel Comic Book Artist
"Curious George celebrates Ramadan in new book", New York Daily News
"Hablamos Islam" (General Information on Islam), by Wendy Díaz
"Mr. Trump, the kids can hear you (and other ways Muslim children are experiencing Islamophobia", Bridge Initiative
"On Becoming a Muslim American", The Daily Beast