Share Your Story!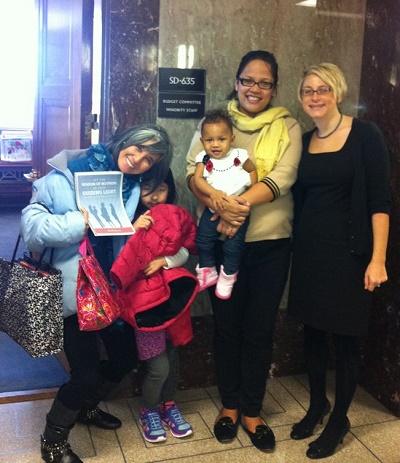 UPDATE: House Passes Budget Giving Trillions to Wealthy Corporations! Easy Next Steps You Can Take
Over the past few weeks, MomsRising.org members have taken action and signed our letters to the U.S. Congress telling them to protect moms, kids, and families in the national budget and tax packages. Together, we have been a powerful force for families! We collected over 44,000 signatures from moms, dads, and concerned voters like YOU and then we delivered them to elected officials last week. Together, we told Congress to reject tax breaks for the mega-rich and wealthy corporations and instead invest in programs that boost our families' health care, nutrition and early education.
Thank you!
Now we are hoping you could double down on your efforts and share a quick experience with us about how programs like Medicaid, Medicare, food stamps, WIC, Head Start, Afterschool and Summer Programs, and childcare assistance have boosted you and your family!
Why share your experiences? Because they make a real difference! Really and truly! Your experiences don't need to be dramatic, long or well-written to be powerful and you can share your story anonymously if you prefer. Your stories help educate our national leaders about the programs that are important to you and your family and that help make our nation stronger.
I hear over and over again from members of Congress and their staff about how these stories make a difference. Instead of reading yet another administrative report on why food stamps or childcare assistance matters, our leaders like to hear from real parents about how these nationally funded programs are used and why they should be protected.
Here are a few ways your stories make an impact:
Just last week Virginia mom Suzanne spoke at a press conference on Capitol Hill with members of the House Progressive Caucus. She told her story about how her two children with Downs Syndrome depend on Medicaid to lead healthy, normal lives and how threats to slash funding for health care, special education, and Social Security Disability Insurance (SSDI) would harm her family.
After submitting her story to MomsRising, Jessica met with leaders of the House Democratic Women's Caucus to talk about how unaffordable childcare is for her as a single mom and how further investments in early learning are needed in order for her son to succeed.
We know you can't always travel to Washington, D.C. or their district offices to meet with your members of Congress, so MomsRising packages your stories in booklets and delivers them to congressional offices….your voice is being heard on Capitol Hill and in your state even when you are hundreds of miles away.
***Double down on your efforts to stop this awful budget and tax bill now and CLICK HERE to share your story with us—I promise it will only take a few seconds (and you can keep your name anonymous if you want!).
Here's why your story matters right now: Last week the House of Representatives passed their version of the budget. This budget would add $1.5 trillion to the deficit over the next decade thanks to the massive tax cuts it gives away to the mega-rich and wealthy corporations. On top of that, it slashes funding to SNAP, Medicaid, and education programs. Meanwhile, the Senate Budget Committee is drafting their version of the budget and are expected to send it to the full Senate for a vote as early as next week. Make no qualms about it, this whole process is a way to give away trillions of dollars in tax cuts to the wealthy and privileged at the expense of the health care, nutrition, and education programs that matter most to our families. And if you think our fight over Obamacare is over, think again: The Senate budget leaves the door open for further repeal and replace efforts!
But we know using our voices and telling our stories makes a real difference! Just this past summer during the fight over our healthcare, moms, dads, and concerned voters around the country spoke out and shared how Republicans' plans to take away Obamacare would harm our families. We got hundred of stories from people just like you and we shared those stories in many different ways with elected leaders, the media, and other parents. It made a difference! Being able to tell the stories of real people affected by the decisions being made in Washington, D.C. mattered and we were able to stop the efforts to repeal Obamacare against great odds.
**Please take a few seconds to share your story with us and we promise to deliver it to your elected leaders!
Thank you for continuing to use your outside voice to speak up for moms, women, children, and families.