Let's face it: Last night both Governor Romney and President Obama missed a chance to win over women and mom voters.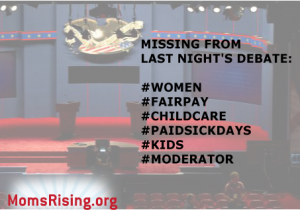 "Missing from the debate: #women #fairpay #childcare #paidsickdays #kids  #moderator - #risers #momsvote #Kids2012"
We're not alone in feeling this way: The above Tweet that we sent late last night was repeated by others so many times that it reached more than 127,821 Twitter accounts in lightning speed.
Let's take the wheel.  Put women, family economic security, and kids in the spotlight where they belong.  Women and moms across the country are signing an open letter, to be delivered directly to both campaigns before the next debate, urging President Obama and Governor Romney to speak directly to the economic issues that impact women, moms, families and kids.
*SIGN ON! Tell both campaigns that they missed out in the debate by leaving women and families out:
http://action.momsrising.org/sign/MomsVote_Debate_2012_Response/
We're not sinking in despair because our issues were left off the table last night. We're #risers.  We demand that in future debates the candidates speak to real-life, daily economic issues impacting women and families, like the cost of childcare, women's health, as well as the lack of pay equity for women, sick days, paid family leave, common-sense solutions to address issues facing immigrant families, and the lack of investments in our nation's children.  You can sign on too by clicking the above link.
Together, we have significant power: Women and moms comprise more than 50% of the electorate--and we're now networked online unlike any other time in history, with more than 90% of moms online and more than 36 million women actively either writing or reading blogs.
PLAY IT FORWARD: You too can use this networked power to have a significant impact by spreading the word. Use the "Share the Knowledge!" buttons below to share this with friends and family.  Cut and paste this action link into your Facebook status, and Tweet the message out: We're networked women and moms--and we won't sit idly on the sidelines.  We're taking the wheel and making sure the candidates hear us!
Shoulda, coulda: The debate last night was "supposed" to cover domestic policy issues, including three segments on the economy.
After the debate, we were left scratching our heads wondering how the preset debate agenda items titled, "Economy I, Economy II, and Economy III" could have left out women, children, and families when:
Women are holding up our economy.
Since over 80% of women in our nation have children by the time they're forty-four years old, kids are a big part of the equation too.  Not just because early investments in children's health and education programs save taxpayer funds in the long run (it's arithmetic!); not just because kids need safe, enriching places to be so their parents can work; but also because children are the economic engine of our future.
Fair pay, the price of child care, and a lack of paid leave to care for children and the elderly are among key economic issues in women and mothers' daily lives.  Any discussion about the economy that leaves out women, mom, and families fails to hit the mark.
Moms, and the issues they face, shouldn't be relegated to 30-second TV ads.
Moms want candidates willing to debate on the issues that we face each day.  A poll recently conducted by Anzalone Liszt Research found 57% of women voters (including 75% of Hispanic women and 80% of black women, as well as 65%of women under 50) say they are more likely to support an elected official who supports paid sick days, a critical family economic security policy.  And, a recent First Focus poll shows that voters want candidates to focus more on children. In fact, nearly two-thirds feel the 2012 presidential campaigns should increase their focus on children's issues.
Our nation's future economy depends on our current investments.  Any discussion of our economy must include discussion of how our nation prioritizes women, moms, children and families.
*SIGN ON! Tell both campaigns that they missed out in the debate by leaving women and families out: 
http://action.momsrising.org/sign/MomsVote_Debate_2012_Response/
And, don't forget to use your power as a networked woman, and mom, to share this blogpost and post the action link on Facebook in order to urge your friends to sign on too.
Together, we're a powerful force!
P.S. Many state election voter registration deadlines are right around the corner - some in 2 days! - so take a moment right now to make sure you and at least 4 of your friends are registered to vote! Click--> action.momsrising.org/signup/2012-Register/
~~Fired up? Join MomsRising now!