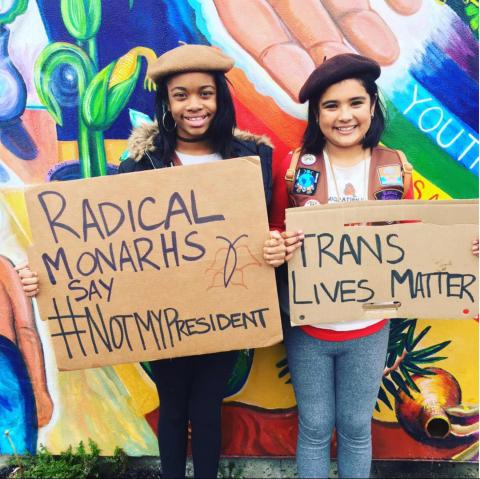 Two New Documentaries About Parents, Kids, and Social Justice
Documentary film is having a moment. Look on any network, streaming platform, or even your phone and you'll find a documentary telling the true story of people living their lives doing remarkable, and unremarkable things. Documentaries pull us in because we get to see a story different from our own, or one that affirms our current experience, and sometimes that inspires us to learn more or even join a cause. Watching documentaries at a film festival is an experience that should not be missed because filmmakers and subjects are often there to further discuss their story.
The SFFILM Festival is featuring many documentaries during its two week run in San Francisco, Oakland, and Berkeley from April 10–23. Two of them feature families who have taken both personal and public action to fight for their rights. The first is We Are the Radical Monarchs, about a troop of girls of color who build leadership skills in social justice activism. It was started by two Bay Area moms and is growing! The second is a short film All In My Family, about a gay Chinese immigrant and his longtime partner who are raising two children and decide to travel back to China to meet with his family. This story shows that taking action begins at home, preparing us to fight for ourselves and our communities.
Come join the audiences at these films and be part of the movements supporting them.
The Radical Monarchs are an Oakland-based leadership development troop, specifically for girls of color, that doesn't award badges for cookie sales but rather for social justice, activism, and "allyship." Following the two moms, Anyavette Martinez and Marilyn Hollinquest, who founded the troop, and the girls through a season of badges, growing pains, and reactions to the current political climate, We Are the Radical Monarchs shows that with groups like these, the future is indeed female and ready to take action.
Register for the free screening at the Castro Theatre on Saturday, April 13 at 1:00 pm. 
All in My Family is filmmaker Hao Wu's nakedly personal account of a visit back home to China 20 years after leaving to live openly in the US. A father now of two infants with his longtime partner, they prepare to meet the family, but Hao ponders how much to tell his nonagenarian grandfather. Frank interviews with his parents, sister, and aunts lay Wu's dilemma bare in a society that barely acknowledges homosexuality and where the idea of a gay couple raising children together is an alien concept.
Get tickets to this program which plays with another short film on Thursday, April 11 at 8:30 pm at the Roxie.