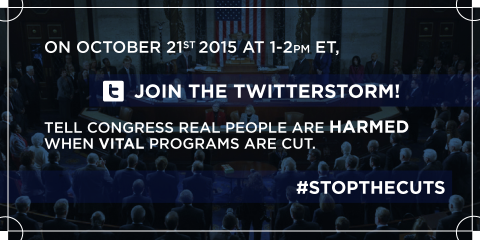 Twitterstorm 10/21: Tell Congress to Get to Work and #StopTheCuts
On October 21, 2015 at 1pm ET join MomsRising, Coalition on Human Needs, 9to5 – National Association of Working Women, AIDS United, Children's Leadership Council, Food Research and Action Center, MoveOn.org, National Council of Jewish Women, National Women's Law Center, RESULTS, and advocates across the country for a #StopTheCuts twitterstorm telling Congress get to work, raise the debt ceiling, and #StopTheCuts to vital human needs programs. Time is running out and Congress must take action before the end of the month.
As the Coalition on Human Needs noted in our recent national poverty report, Economic Growth Leaves the Poorest Americans Behind, economic recovery since the Great Recession has been unshared. Even worse, progress that has been made continues to be threatened by a Congress that refuses to get to work – to prevent cuts ranging from bad to catastrophic.
Lawmakers have choices to make – pass full year funding for 2016 that will #StopTheCuts and invest in programs that help low-income Americans, or keep harmful spending caps in place and force more of our neighbors into poverty. Or, almost unthinkably, threaten to strangle the economy by failing to raise the debt limit.
Congress needs to hear from you. Next week, we will take to Twitter and share our message with lawmakers. Join us as we make it loud and clear it is time for Congress to get to work, #StopTheCuts, and raise the debt ceiling.
Groups and individuals can RSVP to participate in the twitterstorm here. CHN has national and state poverty data social media toolkits (that include Twitter handles for lawmakers) and encourages all to share their messaging, resources, and graphics with the hashtag #StopTheCuts during the twitterstorm. Please RSVP so we can send you updates and more materials to share on Twitter October 21!
Who? You + advocates across the country!
What? #StopTheCuts Twitterstorm
Where? Twitter – Follow and post with #StopTheCuts
When? October 21, 2015, 1pm-2pm ET
How? Use our social media toolkit and RSVP here to get these materials to share sent to you. Follow and post with #StopTheCuts on October 21 from 1pm -2pm ET.
Spread the word! Here are a few sample tweets to get involved:
Join the #StopTheCuts twitterstorm 10/21 1pmET! Tell #Congress raise the debt ceiling + invest in human needs http://bit.ly/1Pe5i6c
Join us & @CoalitiononHN for a #StopTheCuts twitterstorm on 10/21@1pm ET! RSVP to receive graphics and sample tweets to share: http://bit.ly/1Pe5i6c
1 in 6 Amer. lives in #poverty. Tell Congress get to work 10/21 1pm ET during  #StopTheCuts twitterstorm http://bit.ly/1Pe5i6c
Be sure to follow @MomsRising, @CoalitiononHN, @9to5org, @AIDS_United, @fractweets, @KidsCLC, @MoveOn, @NCJW, @nwlc, and @RESULTS_Tweets and the hashtag #StopTheCuts to participate.