Tutorial: Olympic Crafts on MomsRising Radio with Kristin Rowe-Finkbeiner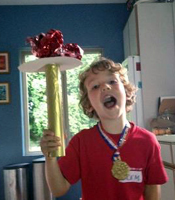 Olympic crafts are fun, easy and everywhere.  Simple (but medal worthy) crafts are a great way to spread the Olympic spirit.
You can hear all about these Olympic crafts, as well as listen to Olympians, and sports experts on MomsRising Radio with Kristin Rowe-Finkbeiner. Find the podcast here:  http://itunes.apple.com/us/podcast/moms-rising-radio/id533519537
Here are the two crafts we highlighted on this week's radio show:
1. Gold Medals
Supplies needed:  Craft clay, gold craft paint, and ribbon,
Tools needed: Round cookie cutter or juice up, plastic picnic knife, small marker cap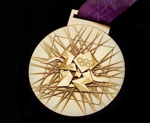 Everyone can get a gold when they create their own!  The 2012 medals have a abstract design with lots of straight lines that are fun to re-create.  You can find easy step-by-step instructions that Cindy from Skip to My Lou created on Alpha mom.
2. Olympic Torch
Supplies needed: Paper plate, Empty paper towel roll, red and gold tissue paper.
Tools Needed: Tape, safety scissors and a pencil or crayon.
Step 1: If your plate as a rim, trim it off so you have a flat round disc.
Step 2: Stand your paper towel roll in the center of your plate and trace around it.
Step 3: Using the circle you just traced in the middle of the plate as your guide, cut a circle out in the middle of your plate.
Step 4: Wrap your paper towel roll in the gold tissue paper and secure the tissue paper with tape with tape.
Step 5: Push the gold covered paper towel roll through the hole in your paper plate.  Carefully slide the plate about an inch from the top of your paper towel roll.  This will protect hands from the "flames."
Step 6:  Crinkle up two or three sheets of red tissue paper and stuff them in the top of your paper towel roll. Arrange the tissue paper till you have just the "flame" you'd like.
Ta'da!  You're ready to carry the torch around the house in a grand procession.