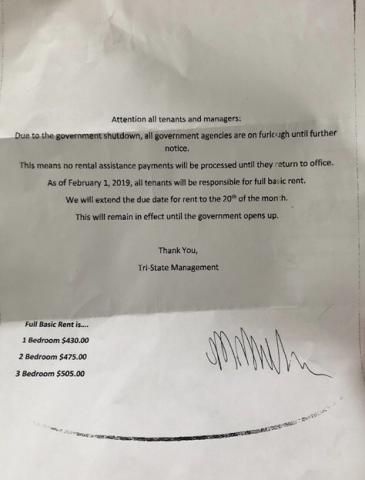 #TrumpShutdown: The Crisis Has Arrived For Affordable Housing
On Day 33 of the Trump Government Shutdown, reports are spreading throughout the U.S. of tenants being threatened with sharply increased rents and even evictions. Last week, one company, Tri-State Management, confirmed it sent a letter to 28 buildings in Arkansas, Louisiana, Missouri, and Mississippi informing tenants they would be responsible for 100 percent of their February rent. All told, the apartments have 758 units, but it is not clear if all of the units received the letter.
An image of the letter was tweeted out by Diane Yentel, President and CEO of the National Low Income Housing Coalition.
"As of February 1, 2019, all tenants will be responsible for full basic rent," the letter states. "We will extend the due date to the 20th of the month. This will remain in effect until the government opens up."
Here we go again. Other day of #shutdown2019, another mass threat to tenants in a USDA rental assistance property in Arkansas. @USDA needs to contact all its property owners and put a stop to this. pic.twitter.com/VmzUS5HqlI

— Diane Yentel (@dianeyentel) January 18, 2019
An official with Tri-State Management told the Huffington Post that eviction proceedings could begin if the shutdown continues past February. "I hope it doesn't come to that," the official said. "I hope the government shutdown is over."
These tenants are joining the growing numbers held hostage by President Trump's insistence on $5.7 billion in border wall and enforcement funding. (The Senate will cast votes for either the President's package or for a short-term re-opening of government on Thursday.)
The Tri-State-owned buildings are subsidized by a U.S. Department of Agriculture rental assistance program that supports 282,000 households nationwide, most of them with elderly residents. USDA earlier this month said rental assistance is funded through January, according to the Huffington Post.
The federal government's larger housing programs, run by the U.S. Department of Housing and Urban Development, are funded through February. Those programs support more than 3 million households.
Right now, there are as many questions as answers as to how many people could be harmed, and how quickly. There are even questions about the legality of evictions if tenants cannot afford to pay full rent.
The National Housing Law Project (NHLP) late last week released a legal analysis. Their analysis found that while HUD regulation for landlords with Section 8 vouchers does not allow rent hikes or evictions if the government stops paying its share, it does allow them to evict tenants for "business or economic reasons," such as wanting to lease an apartment for higher rent.
And there are no clear protections for tenants with USDA rental assistance. "What owners may do in the event of a government shutdown is not set out in [USDA rental assistance] regulations," the analysis found.
NHLP says that 17,000 households would lose their USDA rental subsidy in February, and the remainder of the 282,000 households covered by the program would lose theirs in March.
One of the 17,000 is Beverly Taylor of Newport, Arkansas. According to the Arkansas Gazette, she is one of the ones who got the notice on her door last week stating that she would now be responsible for the full rent.
Before receiving the notice, the Gazette reports, Taylor did not know much about the government shutdown. She doesn't have a TV and rarely gets the newspaper. She moved to the Kenmont Apartments in Newport in 2017 to be near her grandson so that he could help take care of her. Taylor is 73 years old and has difficulty hearing.
She says she will be able to pay full rent, which will be $430 per month, from her Social Security check, but won't have money for much else. "I can't afford to buy groceries or nothing else," she said. "I'll just starve to death I guess."
Although the housing crisis sparked by the Trump Shutdown is just starting to hit individual tenants, The New York Times reports that it already is "wreaking havoc" among organizations responsible for housing homeless people and providing support services to veterans, people with disabilities, and victims of domestic abuse.
The Times reports that the funding lapse is being felt most by providers who depend on the month-to-month cash flow provided by the annual $2.8 billion Homeless Assistance Grant program.
"The crisis has arrived," said Susie Sinclair-Smith, executive director of the Montgomery County Coalition for the Homeless in Maryland. The organization receives $3 million in funding annually; part of that money goes to housing 250 households of formerly homeless people. The last payment the group received from HUD was a $250,000 reimbursement for its December expenses; those funds arrived in early January. "We can get by for a while, but what happens if one of our buildings gets hit by a flood?" Sinclair-Smith asks.
The Times also reports that in Kokomo, Indiana, shelters that serve homeless veterans and victims of domestic violence are struggling to remain open without their monthly subsidies. And organizations in Arkansas, California, Kentucky, New Jersey and Texas face a mass funding halt at the end of January.
Diane Yentel, the NLIHC President and CEO who tweeted out the letter from Tri-State Management, says there is worse to come if the shutdown doesn't end soon.
"If the shutdown continues, all these organizations will be left having to consider a spectrum of bad to terrible options, including staff layoffs and, in the worst-case scenario, evictions," she said.
For a comprehensive look at the Trump Shutdown's impact, click here. For more resources, check out Coalition on Human Needs' Trump Shutdown resource page. And continue to visit Voices for Human Needs for the latest news on the #TrumpShutdown.