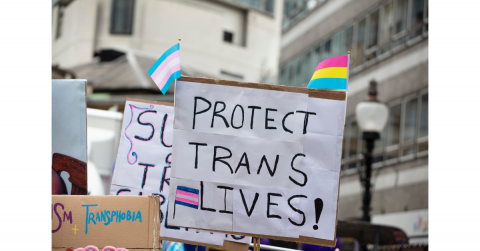 Trans rights are human rights.
FACT: There are close to two-hundred anti-LGBTQ bills in state legislatures across the country that are currently under consideration. 93 of those bills directly target the lives of transgender and gender-nonconforming people (those whose gender identity does not align with their sex assigned at birth). [1] 
It's only April, yet already in 2021 more than thirty states have introduced anti-trans laws that endanger the lives of trans youth. Idaho, Tennessee, South Carolina, and South Dakota proposed anti-trans bills that would prevent transgender students from participating in girls sports teams in middle and high school [2]; North Carolina lawmakers introduced a bill last week that would prohibit gender-affirming surgeries to youth up to 21 years of age [3].  And, unbelievably, Arkansas recently passed HB 1570 on Monday, April 6th, despite Governor Hutchinson's efforts to veto it. It is the first bill in our country that bans medicaid coverage, prevents doctors and clinicians from providing hormonal medicine and therapy, and will effectively ban young people from transitioning into their desired body. 
We must ensure trans and LGBTQ youth have access to healthcare in every state. Tell your Governorto STOP any rollbacks on health care for trans and LGBTQ youth.
Trans youth rights are under attack on several levels. We MUST act now. We must ensure that young LGBTQ people feel supported, protected, empowered, and advocated for. ALL of our children deserve to live their lives, free from stigma and governmental attacks from lawmakers and police, whose sole job is to protect and serve us, the people -- that includes Black, Latinx, AAPI, indigenous, disabled, immigrant LGBTQ people. 
Sign on with us right now to support all LGBTQ youth and tell your Governor to STOP any plans to prohibit trans youth from receiving the proper health care they need. 
By taking away health care rights of trans and LGBTQ youth, we are putting them at higher risk for suicide, self-inflicted violence, substance use, sexual violence, and sexually risky behaviors. [4] According to a study conducted by the Centers for Disease Control and Prevention (CDC), ten state and nine urban school districts found that an average of almost two percent of high school students are transgender, which equates to about 300,000 highschoolers in states across the country, not counting the youth who are not enrolled in school and/or unsure of their gender identity. [4] The study also found that, because of trans youths' vulnerability to harmful and violent risks compared to their cisgender peers (those whose gender aligns with their sex assigned at birth), there is a need for "programmatic efforts to better support the overall health of transgender youths" like "safer learning environments, and access to culturally competent physical and mental health care." 
The anti-trans bills proposed are not the last of their kind that are expected in 2021. There is discussion in Arkansas to introduce legislation banning trans people from using public bathrooms that match their gender identity and force public institutions to enforce these rules. Many more lawmakers in states across the country aim to do the same. [5] Medical experts, doctors, social workers, and parents agree that a gender affirming approach has proven to be the best approach for youth who are transitioning or considering transitioning. This affirming model has been supported and recommended by the American Medical Association, the American Psychological Association, the American College of Obstetricians and Gynecologists, and many other major medical associations. [6][7]
Trans rights ARE human rights, period. It is our responsibility to protect them. Let's put trans people and LGBTQ people of color in rooms and spaces where laws and policies are being created about their rights, bodily autonomy, and overall lives. Let's reimagine our health care system—one where doctors and providers empower transgender and gender-nonconforming people and need reliable resources, assurance, affirmation, and support. 
Sign on right now and tell your Governor to support, empower, and uplift trans youth, NOT rollback their health care rights. 
- Diarra, Tina, Kristin, Felicia, Ruby, Joy, Sara, and the whole MomsRising.org/MamásConPoder Team
References:
[1] BREAKING: South Dakota Rejects Gov. Noem's Changes, Kills Anti-Trans Sports Bills
[2] South Carolina Lawmakers Reject Transgender Sports Ban Bill
[3] N.C. Bill Would Ban Treatment for Trans People Under 21 
[4] Transgender Identity and Experiences of Violence Victimization, Substance Use, Suicide Risk, and Sexual Risk Behaviors Among High School Students — 19 States and Large Urban School Districts, 2017
[5] In Arkansas, Trans Youth Face the Country's Strictest Laws Yet
[6] Doctors Agree: Gender-Affirming Care is Life-Saving Care 
[7] What the Battle Over a 7-year-old Trans Girl Could Mean for Families Nationwide