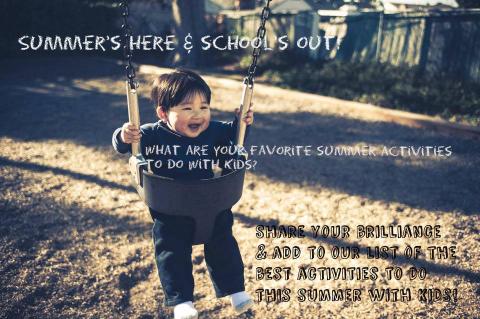 Top Summer Kid Care & Activities
School's out and summer is here! As a kid, that meant sunshine, long days full of fun, and all the perks of summer: BBQs, popsicles, swimming, summer camps, and no homework! As an adult and as a soon-to-be parent, it leaves me with more questions than anything!
Figuring out what to do with little ones can be fun and stressful. Fear not! Below are some great resources to help families find care for kids during the summer months while school is out.  And as an added bonus, our fabulous MomsRising.org members have generated a full and fun list of things to do with kids this summer!
Please keep adding to our growing list below by adding in the comments! The more, the merrier!
Great resources to kind childcare:
National Association for the Education of Young Children (

http://www.naeyc.org/

): NAEYC connects parents with resources to help determerine the level of quality of childcare centers.  Additionally, they have a search function to help parents find care that is NAEYC accredited in their area!
Child Care Aware (

www.http://childcareaware.org/

):  CCA connects parents with resources to help determine th elevel of quality of a variet of childcare settings.  Additionally they provide online and over-the-phone consultations to help narrow-down childcare options near you that meet your specific needs and criteria (like: within 5 miles of your place of work, at a childcare center or in a family home, etc.).
American Camp Association (

http://find.acacamps.org/

): ACA has a great search function to help identify summer camps for kids (and families) based on the needs and criteria of parents and families (you can search by location, cost, day or overnight, etc.). ACA also has an accreditation for summer camps to help parents navigate the quality of programs.
Fun summer activities with kids:
The beach for swimming -- Brenda in California recommends Big Sur and Pebble Beach if you are in the area

Library for checking out new books to read together or to check out story time.  Many libraries also have summer reading programs with prizes for little readers to participate in.

Summer camps

Museum -- many museums have free admission days each month, check your local museums for details.  Many museums also have specific kid-oriented events like storytime that are great (and usually free) to take advantage of

Camping with the whole family

Parks -- endless fun for the kids on the playground

Swimming -- at a pool, lake, or beach

Local festivals and farmers markets

Hiking

Scavenger hunts -- Kathy recommends one at a grocery store or farmers market and have kids find things that grow underground, find a food that starts with a 'W', etc.

Picnics in the backyard or local park

Stargazing past bed time

Day trips

Bowling -- for those days that are rainy or just too hot to be out and about

Zoos and aquariums

Sleepovers

Box car movie nights

Gardening

Nature walks

Water parks

Water balloon throwing at the park
Have more ideas? Add them in the comments! Happy summer!