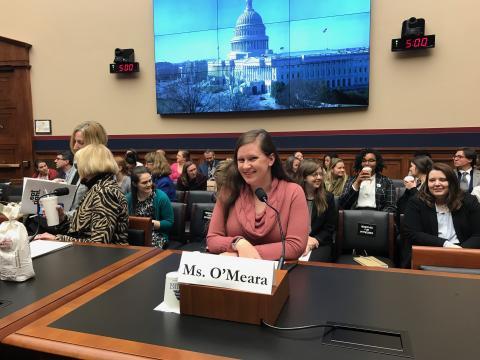 Top Actions of the Past Week: March 15, 2019
Our hearts are breaking for all the victims, survivors and families, and for the entire Muslim community, in Christchurch, New Zealand. The violence that took place yesterday is horrendous. Around the world, mosques, synagogues, temples, gurdwaras, churches and all places of worship should be a refuge of peace and safety. Breaching these sanctuaries with violence and hate is horrific and truly intolerable. Everyone deserves to worship in peace.
America's moms grieve with all those who are suffering in New Zealand and all those around the world who feel targeted and less safe today; as we also take seriously our responsibility to say no to Islamophobia and hatred, and to reject inflammatory rhetoric that leads to hateful actions and crimes. We are committed to stamping out xenophobia, Islamophobia, anti-Semitism, racism, sexism, homophobia, transphobia, ableism, religious persecution of all kinds, and discrimination in every form.
We are devastated that white supremacy, now more openly espoused here in the United States, reportedly helped motivate the attacks in New Zealand. As we stand with all those who experience bias, violence, and hatred, we call on our leaders to reject the policies too many politicians from both major political parties, and especially the Trump administration, espouse that are driven by bigotry. These include the Muslim Ban and the border wall, which codify and symbolize hate. And we call on our leaders also to #DisarmHate now. (Read and share MomsRising's full statement here.)
Below please find our latest list of top #5Actions of the past week, including a top action asking Congress to #Disarmhate. We're also speaking out about taxes, paid sick days, school lunch, and more. Scroll down to check out some incredible victories we're celebrating this week, too.
Thank you for being a light in this world.
1. We Stand for Love and with All Communities of Faith. Tell Congress to #DisarmHate
BACKGROUND: Our hearts are broken for the victims and families, and for the Muslim community, in Christchurch, New Zealand. Around the world, mosques, synagogues, temples, gurdwaras, churches, and all houses of worship are places of peace and safety. We stand with all people of faith against those who would breach these sanctuaries with hate and violence. Here at home, we call on Congress to #DisarmHate. #GunSafety #Love
2. Tell Congress: Repeal the Trump Tax Scam
BACKGROUND: It's tax time and we are getting an angry earful from moms around the country about Trump's backwards tax scam -- and need your help letting Congress know what's going on in the real lives of families in our nation. Simply put, our families are getting screwed by the Trump Tax Plan (aka the Tax Cuts and Jobs Act, aka the Trump Tax Scam). ***TAKE ACTION NOW! Sign our letter telling the U.S. Congress to repeal the Trump Tax Scam!
3. Ask Your Representative to Co-Sponsor the Healthy Families Act
Call now: 1-855-440-1800
BACKGROUND: Everyone gets sick, but not everyone has a chance to get better. No one in this country should have to choose between earning a paycheck and taking time off from work to recuperate from illness or stay home with a sick child. But at least 34 million workers in the United States today cannot earn a single paid sick day to use when they get sick. The Healthy Families Act would change that by creating a national paid sick and safe days standard of seven paid sick days for workers. Help urge lawmakers to support this important legislation! Just call this number and we'll give you some easy talking points and connect you to your lawmaker: 1-855-440-1800. 
4. Tell Congress to Support Working Family Tax Credits
BACKGROUND: The U.S. Congress needs to reject the Trump-GOP Tax Plan and pass policies that we know work. We need tax policies that boost working families, instead of mega-corporations. Lucky for us, leaders in Congress are starting to put together proposals that will help our families and even the playing field in our upside-down, only-benefiting-the 1% tax code. Strengthening and improving the Earned Income Tax Credit (EITC) and Child Tax Credit is the type of tax policies our working families need NOW! *SIGN our letter to the U.S. Congress telling them to strengthen tax credits for working families, like the Earned Income Tax Credit (EITC) and Child Tax Credit, and repeal the Trump-GOP Tax Scam!
BONUS: Share your EITC and Child Tax Credit story, and we'll deliver it to legislators! Your voice is powerful. 
BACKGROUND: It's time to speak out about the importance of healthy school meals, as Congress starts the process of reauthorizing the Child Nutrition Act. Last week our rockstar Pennsylvania member Nikki testified on Capitol Hill about why free and reduced-price school meals help her family. We need your story, too. We know the voices of parents around issues like these make a big, big difference to legislators. How has your family been boosted by school lunches and breakfast!? Please share now. (And check out Nikki's powerful testimony on the blog.)
INSPIRATION OF THE WEEK!
WE WON!!! Wells Fargo will no longer bank the private prison industry, which profits from the detention of families!!
The announcement by Wells Fargo during a Congressional hearing is a monumental win for millions of people who — through signing petitions by the hundreds of thousands, delivering messages to local banks, and taking direct action outside corporate headquarters and bank branches in cities across the country — made it clear that funding private prisons is unacceptable and antithetical to our country's values. Thank you Wells Fargo for listening to families in your communities by ending financing of private prisons that profit from the suffering of families. Read MomsRising's statement here. 
Even the Republican-Controlled Senate Agrees: There Is No National Emergency
America's moms recognize the President's declaration of a national emergency as the violation of presidential powers that it is. And we're not alone. This week the U.S. Senate passed a join resolution to reject President Trump's reckless, politically motivated, bogus declaration of a national emergency. Read our statement here, and stay tuned for more ways to speak out as we urge Trump to respect the checks and balances our Constitution guarantees and refrain from vetoing the joint resolution.
https://www.momsrising.org/newsroom/even-the-republican-controlled-senat...
Have a great weekend, and thank you for all you do!