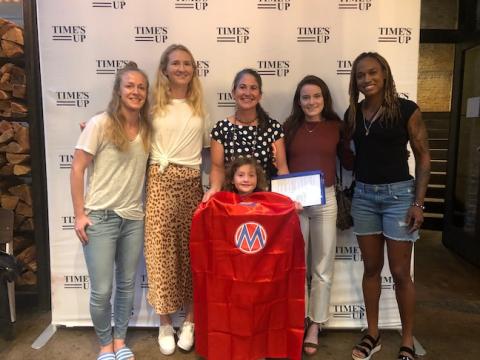 Top #5Actions of the Past Week: September 6, 2019
September is in full swing, and we are ready for it! We're sharing this week's roundup of top and timely actions below, featuring two important calls-to-action on gun safety. There's also a call for stories on youth incarceration, a chance to speak out about family separation, and a link to donate to fuel our work (and get a cool sticker!). Be sure to scroll to the end to check out some fantastic photos of us delivering your signatures and messages to the U.S. Women's National Soccer Team to thank them for speaking out about equal pay!
As always, sharing this list with family and friends doubles your impact. Fact: Together we are unstoppable.
Here's the list =>
1. Demand Gun Control! Tell Congress to stand against the influence of white supremacy and the NRA
BACKGROUND: We are calling on Congress to stand against the influence of white supremacy and the NRA, and finally take on comprehensive gun policy reform! They need to ban assault weapons and high capacity magazines, disarm hate, pass universal background checks, support extreme-risk protection orders, and more. IT'S TRUE: The Second Amendment was in part originally added to the U.S. Constitution to appease southern colonies that feared the "tyranny" of a federal government that could expropriate the armed militias they needed in order to control people who were enslaved. And the National Rifle Association has a well-documented record of employing racist and xenophobic rhetoric and tactics that directly draws on the United States' shameful history of slavery and racism. White supremacy has been at the root of inaction on gun violence. Speak out now.
2. Babies Need To Be With Their Moms! SPEAK OUT!
BACKGROUND: Every working and breastfeeding mother should be able to experience that feeling of anticipation as they wrap up a hard day's work and return to their loved ones. No one should carry the uncertainty of not knowing when they'll see their children again. And yet, mothers like Maria Domingo-Garcia and others that have been separated by ICE from their children while they are still breastfeeding have had that taken away. We know that separating and incarcerating children and families causes tragic, long-term consequences to the health and well-being of children and their families. In spite of that knowledge, the Trump administration continues to push policies that do just that. We demand that the Trump Administration and Congress protect immigrant children and families. Add your name now.
Stand with immigrant families. Defend women's and family rights with a donation to MomsRising. Contribute today and we'll send you this special "Mothers Raising Liberty & Justice" sticker. These stickers are perfect for a car, water bottle, notebook, laptop — wherever you want to show your support for immigrant and family rights. Click here to donate and get your sticker now.
4. Tell Your U.S. Representative to Cosponsor the Assault Weapons Ban 2019!
BACKGROUND: Military-style assault rifles and high-capacity magazines are weapons of war, pure and simple. And, as the recent shootings in Gilroy, El Paso, Dayton, and Odessa again demonstrated, they are the weapons of choice for mass shooters. More than anything, it has been assault weapons and high-capacity magazines that enable the horrific levels of violence. Exercise your power as a constituent and tell your member of Congress to cosponsor the Assault Weapons Ban 2019! The more cosponsors the House bill has, the closer it gets to a vote to move it forward in the legislative process and into law! Add your name!
5. Share Your Story About Youth Incarceration
BACKGROUND: The truth is prisons harm kids. Incarcerated youth often experience dangerous facility conditions such as physical and chemical restraints, high suicide risk, sexual and physical abuse, and solitary confinement. We're working to END youth incarceration by challenging the practices and policies that criminalize kids and push them into the juvenile and criminal justice systems. Share your thoughts and experiences with us and we'll include them in materials we use to educate our nation and decision makers about youth incarceration and what parents, caregivers, and community members are doing to address this problem in our nation. Share your story now.
INSPIRATION: We delivered your thank you messages to the U.S. Women's National Soccer Team!
We delivered almost 10,000 messages of thanks from MomsRising members to the U.S. Women's National Soccer Team in Philadelphia last Tuesday! They were excited to read your notes of thanks and encouragement, and we're excited to stand alongside them in the fight for #EqualPay.
Thank you for all you do!