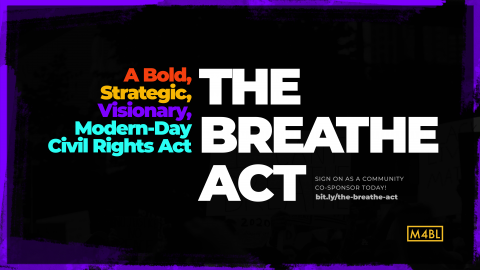 Top #5Actions of the Past Week: September 4, 2020
Before we get to the #5Actions this week, all of us at MomsRising want to first thank you for everything you've been doing to help protect our democracy, to advance justice, to get families and our economy much needed COVID-19 relief measures, and to help get out the MomsVote in 2020. We know you're doing this all at the same time as you're juggling a tremendous amount in your lives due to the pandemic, online schooling, work, and the list goes on and on.
You are true superheroes. Thank you. We appreciate you.
Here are 5 ways that you can continue to take action today.
Hope you get a chance to enjoy the weekend!
Jacob Blake, the WNBA, CoSponsor the BREATHE ACT
Leaders across the country have tirelessly put themselves on the frontlines for the defunding of police, safer communities for Black and Brown people; fighting against racist policies aimed to harm our people. Over 200 organizations, including MomsRising, have come together to support the BREATHE Act. This act will ensure that our political leaders invest in our communities through education, housing, healthcare, mental health services, address the needs of the people living in low-income communities and divest from racialized, militarized policing and incarceration.
Become a community co-sponsor of this historic legislation and urge your member of Congress to do the same!
Tell Congress to include immigrants for COVID-19 relief!
Immigrants make up nearly 16% of healthcare workers in the U.S. and are putting their lives on the line to fight COVID! Effective public health responses require attention to all community members, as a pandemic response that excludes any members of our communities will weaken its effectiveness. None of us can be healthy if any one of us is denied access to testing, care, and economic relief.
Tell Congress to include immigrants in the next COVID-19 relief legislation!
Sign Up to Help Get Out the #MomsVote With Texts and/or Calls!
We have just a few months before Voting Day on November 3. Research shows that personalized messages delivered in a conversational manner are one of the most effective ways to mobilize voters – and that's exactly what this program does. Plus, we have A LOT of work to do: Only about 58% of eligible voters turned out to vote in the last presidential election, which leaves a lot of room for improvement! So our personal voices are (quite literally) needed. Join us in making the call (literally, and text too!) to get out the vote!
2020 #MomsVote GOTV Power Surge: Sign up for just 20 Minutes of Texts and/or Calls!
Write a Letter to the Editor in Support of COVID Relief for Immigrants
Congress is deciding whether to include immigrants in COVID-19 relief and are tracking what their constituents are saying about this issue. Use your voice to make sure that immigrants who are risking their lives to fight COVID-19 are included in relief programs.
Submit a Letter to the Editor for your local newspaper! Our talking points and tech tools make it fast and easy!
Moms Vote face masks are here!! Support and Celebrate Moms Voting!
Wearing a MomsRising's face mask will not only help you stay healthy, but also help inspire, celebrate, and turn out millions of moms to vote! You can get a face mask of your own when you make a donation to support MomsRising's massive mom voter engagement programs across the nation this year.
Moms are a powerful force for change! When you make a donation of $25 or more, we'll send you a limited-edition Moms Vote face mask as thanks! You can wear it to inspire, celebrate, and help turn out millions of moms to vote!