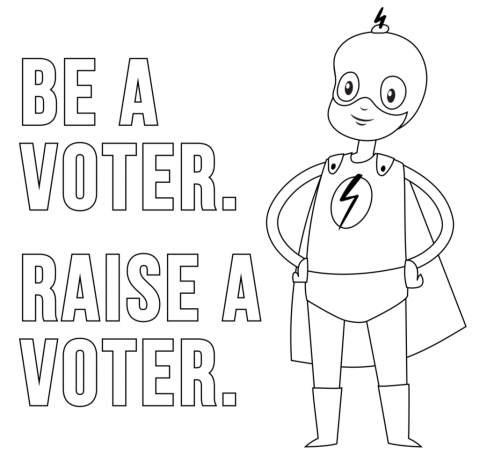 Top #5Actions of the Past Week: October 26, 2018
With just ten days until Election Day, it's all hands on deck to Get out the Vote! This election is critical for moms and parents across the country. 
MomsRising is making it easy to get involved in getting out the vote! Can you sign up for one or more of the easy actions from the list below? (If you've already taken one of these actions, please choose another! There's so much to do.) We're also sharing an easy way to speak out for healthcare.  
Please remember to share this list with family and friends, too. Thank you for all you do! On with the list ... 
1. Sign Up to Make Calls and Texts through MomsVote GOTV Power Surge!
BACKGROUND: MomsRising has been thinking carefully and working hard on our plans for the final sprint to get out the vote. For the last few days before Nov. 6, we've designed actions that are strategic, easy and that maximize your time and effectiveness.

When you join our MomsVote GOTV power surge, you'll be reaching out to low-propensity voters in under-represented communities through phone banking and/or texting, using YOUR personal voice to connect with them and help inspire them to vote. We need moms, dads, grandparents and everyone who cares about the future of our country to join MomsRising's burst of power to the polls! Sign up now to make a few calls, send a few texts, or BOTH!
2. Make Your Plan to Vote! (We'll email you a handy checklist!)
BACKGROUND: Having a plan to vote, whether early, absentee, or on Voting Day (November 6th), is an important part of making sure your voice is heard this election. Let us know how you are planning to vote! We will send you a checklist to help you put your plan into action, make voting fun for your kids, and to help encourage your friends and family to make a plan to vote as well.
3. Take Quick Action to be a Healthcare Voter! 
BACKGROUND: It's no surprise that in poll after poll this election season, health care is consistently at the top of the list of voters' concerns. We all watched last year as the Republican-led Congress took one whack at health care after another, trying (and failing) to repeal the Affordable Care Act (ACA). And after that effort failed, we've witnessed dozens of efforts to sabotage health care from the Trump Administration, including an executive order issued just this week designed to undermined our consumer protections on pre-existing conditions. **Will you join us in writing a letter to the editor to share why it's important to be a Health Care Voter and to vote for candidates who will protect our access to quality, affordable health care coverage?
4. Make Voting Fun for the Whole Family! 
BACKGROUND: Make voting super fun for your kids: We want you to be a voter and raise a voter! Check out these great activities for kids, including coloring sheets you can download and bring to the polls! 
5. Tell GA Secretary of State Brian Kemp to Stop Suppressing the Vote!
BACKGROUND: Even though the voter registration deadline in Georgia has already passed, it has been discovered that 53,000 voters might be unable to vote on regular ballots come Voting Day (November 6th) due to an unfair and discriminatory policy called "exact match." "Exact match" states that your voter registration could be rejected, or placed in a "pending" status if your name and information doesn't exactly match the information on your driver's license or social security card. And 70% of those 53,000 voters who are being suppressed because of this policy are Black. This is voter suppression and it has to stop right now. *SIGN our letter to Georgia Secretary of State Brian Kemp demanding that he stop suppressing the vote of thousands of Georgia voters!
BONUS => Contribute Today to Help MomsRising Get Out the Vote! 
BACKGROUND: We need your support to help energize our #MomsVote work so we can bring forward the votes and voices of women and moms across the nation in the election season. With MomsVote, we can register women to vote, educate the candidates about what matters the most to women and moms, engage MomsRising members in the national political dialogue, and more.
Thanks for all you are doing this busy time of year! We so very much appreciate you!