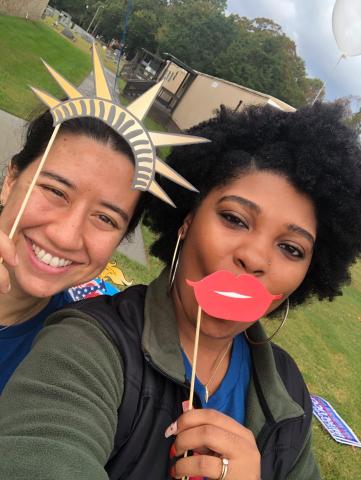 Top #5Actions of the Past Week: November 8, 2019
Happy Friday! Did you vote this week? When moms RISE, things happen. Big things. This year, to get out the vote for the Virginia elections, moms sent a massive number of GOTV texts & hand-written postcards to low frequency mom voters, made videos to inspire other moms to vote, shared stories, became Beacons of Hope in local communities, delivered so much strategic direct mail, reached out to infrequent mom voters with millions of impressions on social media, held more than 22 events at polling locations with games and fun for kids so moms could be voters & raise voters, met on the ground & so much, much more! Thank you for igniting democracy! Check out photos below, alongside our top actions from the past week. Please scroll, sign and share. Then have a great weekend! Here's the list => 
1. Tell Congress: Stop funding Trump's hateful immigration policies!
BACKGROUND: Our nation's budgets are supposed to reflect our values and priorities, and we don't want another dime of our tax dollars going towards a detention center that jails immigrant children or the construction of a harmful wall! Horrifyingly, just last week, the ACLU discovered 1,556 more immigrant families were separated than previously estimated. The U.S. Congress must reign in ICE and Customs and Border Patrol and put an end to President Trump's hateful immigration policies now and they have the power of the purse to do so. We will be on Capitol Hill next week delivering materials and talking to key Senate leaders in order to empower them to reclaim the power of the purse and stop the funding of Trump's atrocious immigration policies. ***MAKE SURE TO SIGN OUR LETTER NOW calling on the U.S. Congress to prioritize what our families really need—nutrition, healthcare, education, and disaster assistance programs—in budget negotiations and reject funding for family separation and Trump's hateful immigration policies.
2. 100 Champions Wanted For Our Giving Tuesday Match! 
BACKGROUND: Become a MomsRising Champion monthly donor in honor of Giving Tuesday and a sister MomsRising donor will DOUBLE your generosity. Your steady, affordable, monthly contributions now have 2X the power to create a brighter future for women, moms and families!
✔ Your contributions matched for an entire year
✔ Every gift gets a MomsRising sticker
✔ Pledge $10/month to get a sticker + cool tote
Can't chip in monthly? Make a one-time contribution instead — still matched $1-for-$1!
3. Can You Drop Off a Letter to Your Local Regions or Citizens Bank Branch on November 14?
BACKGROUND: Sign on and we'll email you everything you need to do a drop-off. It only takes a few minutes, it will make a big impact, and is urgently needed. Whether for storing sticky snacks, toy race cars, or holding our leaders accountable, moms know the power of the purse. Now let's also use the power of our consumer voices to end bank financing of private prisons! There can be no business in abuse. Join us in urging Regions and Citizens Bank to stop financing private prisons!
4. Let's Increase Funding for Child Care and Head Start This Year!
BACKGROUND: The struggle is real when it comes to finding high-quality, affordable care for our children. The Child Care and Development Block Grant (CCDBG), the major federal child care program, helps families with the cost of child care and supports states to improve the quality and supply of care. Families deserve enriching child care options that won't break the bank and will work for them, and child care assistance is essential for helping families find and afford the high-quality care they need! SIGN NOW to urge  Congress to increase funding for Head Start and the Child Care Development Block Grant (CCDBG) in the FY 2020 budget!
5. Write a Letter to the Editor to Support the Women's Health Protection Act
BACKGROUND: Abortion care is health care, period. And most people who have abortions are already parents. Now more than ever—reproductive health care is under attack across the country. Send a Letter to the Editor to your local paper now and call on Congress to pass the Women's Health Protection Act! We make it super easy with helpful tips and talking points.
INSPIRATION: VOTING DAY TREASURE BOXES IN VIRGINIA! 
Thanks for all you do, and have a great weekend!