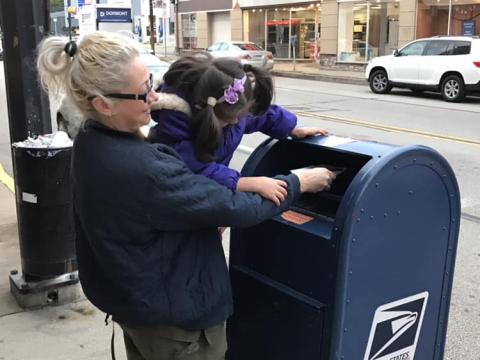 Top #5Actions of the Past Week: November 2, 2018
We're just five days away from Election Day. We are fired up, and we can't wait to vote. We know you are too! So we're sharing our top ways to help get out the vote this week. These are all easy actions that make a big difference. Remember: you have a big influence on friends and family. Please make sure to check in with your squad and make sure they're voting too ... We have some fun and shareable tools to help you do that below.
Thank you for all you do! Everything makes a big difference.
1. Urgent: Make Your Plan to Vote! (We'll email you a handy checklist!)
BACKGROUND: Having a plan to vote, whether early, absentee, or on Voting Day (November 6th), is an important part of making sure your voice is heard this election. Let us know how you are planning to vote! We will send you a checklist to help you put your plan into action, make voting fun for your kids, and to help encourage your friends and family to make a plan to vote as well.
2. Final Chance: Sign Up to Make Calls and Texts through MomsVote GOTV Power Surge!
BACKGROUND: MomsRising has been thinking carefully and working hard on our plans for the final sprint to get out the vote. For the last few days before Nov. 6, we've designed actions that are strategic, easy and that maximize your time and effectiveness.

When you join our MomsVote GOTV power surge, you'll be reaching out to low-propensity voters in under-represented communities through phone banking and/or texting, using YOUR personal voice to connect with them and help inspire them to vote. We need moms, dads, grandparents and everyone who cares about the future of our country to join MomsRising's burst of power to the polls! Sign up now to make a few calls, send a few texts, or BOTH!
3. Bring Your Kids (read: future voters) to the Polls!
BACKGROUND: Make voting super fun for your kids: We want you to be a voter and raise a voter! Check out these great activities for kids, including coloring sheets you can download and bring to the polls! Why not download a few extras to give to other parents waiting in line with their kids, too!
4. We Can't Wait to Vote! Watch this fun video, and get your gloves on!
BACKGROUND: It's go time! And we can't wait to vote! We know you can't wait either. Watch out inspiring new video (featuring moms just like us!) to get excited. THEN please share with a few friends. Fun fact: you have more influence on your friends and family than any ad, candidate literature or tv commercial ever can. You know it's important to vote. Check in with your network and make sure they do too. This video can help!
Click here to watch.
Click here to share.
5. URGENT: Fuel Our GOTV Power Surge!
BACKGROUND: There are only days left until the Nov. 6 midterm elections and we urgently need your help to get out the #MomsVote. Your contribution is needed TODAY to help us mobilize and train a national volunteer corps to reach voters in under-represented communities through phone banking and texting. Together, we can inspire thousands of moms, and people who care about them, to vote!
Thanks for all you are doing this election season and beyond! These are the moments that define us. Everything you do makes a big difference, and together we are more powerful than the forces seeking to divide us.