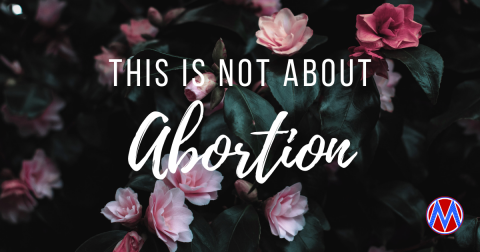 Top #5Actions of the Past Week: May 17, 2019
Happy Friday. This has been a difficult week. Alabama's Abortion Ban is an attack on America's moms, and if it takes effect, a terrible blow to families. We are proud to work with you to fight for as long as we must to secure every woman's rights and freedoms. 
Please scroll down for this week's list of top #5Actions, on Head Start, prescription drug prices, access to period products, financing private prison corporations, and more. Scroll down for a link to MomsRising's statement on the abortion ban too.
Thank you for all you do, and here's the list =>
1. Tell U.S. Congress: Pass the Menstrual Equity for All Act!
BACKGROUND: Period products are NOT a "luxury" item, yet the federal government (and many states) treat them like they are -- and that has a lot of negative repercussions in terms of cost, accessibility, and women's health. The average woman spends 2,535 days over her lifetime on her period. That's nearly seven years of her life of worrying if she has—and can afford—the necessary pad, tampon, or menstrual cup needed to get through the day. Menstrual hygiene products impact not only a woman's health but self-esteem, education, and economic empowerment. Yet for many, these essential products are not accessible. It's time to fix that. Tell the U.S. Congress to support the Menstrual Equity for All Act of 2019 and make it known that period supplies are NOT a luxury and instead a basic need! 
BACKGROUND: Over one million young children and pregnant women are served by Head Start every year throughout the country. Head Start and Early Head Start serve a diverse group of children and families—37% are Hispanic/Latino, 30% are Black, 44% are white, 2% are American Indian/Alaskan Native, and 1% are Native Hawaiian/Pacific Islander. These programs promote school readiness and health for low-income students, help break the cycle of poverty, and provide family well-being by supporting parents and families in their own goals such as housing stability and continued education. But less than half of children who are income eligible for the program are able to access the advantages provided by Head Start! As Head Start celebrates its 54th birthday and our elected leaders begin to craft a national budget, we need Congress to protect and strengthen Head Start's funding and build on its past success to guarantee that all children get the early learning skills they need to be successful later in life.
3. Tell Congress: Protect Child Nutrition Programs!  
BACKGROUND: The Child Nutrition Act is a MAJOR piece of legislation that has an impact on most of our children's lives and has the ability to make the foods our kids eat healthier and put a serious dent in child hunger statistics. The U.S. Congress will be updating this important piece of legislation in the coming months and we want to make sure our voices are heard on programs like school lunches and breakfast (including nutrition standards for those meals), WIC, Summer Feeding Programs, after school snacks, and food served in low-income childcare settings. **It's time to use our outside voices and speak up for the nutrition of our kids! SIGN our letter now to the U.S. Congress on the Child Nutrition Act!
4. Bank of America & SunTrust - Stop Financing Pain For Corporate Gain!
BACKGROUND: Bank of America and SunTrust are financing for-profit prison corporations that are profiting off the pain and suffering of families. The private prison industry is detaining over 70 percent of immigrants in ICE custody and are complicit in the epidemic of mass incarceration that devastates communities of color. Research shows that many private prisons have documented histories of human rights abuses, too. Sign on to urge Bank of America and SunTrust to STOP financing private prisons! #FamiliesBelongTogether #NoProfitsFromPain
5. Quick Signature: Tell Congress to lower drug prices now!
BACKGROUND: Prescription drug prices are continuing to rise and many families are struggling to afford life-saving prescriptions. What's the deal? Congress has created a flawed system that allows pharmaceutical companies to hold patent monopolies to pharmaceutical companies. In addition, unlike in most high-income countries, these monopolies are not counterbalanced by a strong coordinated purchasing strategy by the government to lower costs. As a result, pharmaceutical companies have developed a strategy of price gouging, shifting their focus to increasing profits, as there is no real government effort to rein in prescription drug prices. Sign on now! Tell Congress to take meaningful action to rein in prescription drug prices. 
BONUS ACTION: We're gathering stories about why everyone should be able to access and afford the medication they need to maintain their health! Share your experience here.
MomsRising Stands With Those Fighting for Reproductive Justice
On the night of the signing of the most restrictive bill against abortion, which makes it a felony to perform one in the state of Alabama, in nearly any case including rape or incest, we stand with those fighting for reproductive justice across the country. We are clear that this is not about avoiding abortions. These restrictive laws are about policing of women's bodies, the denial of bodily autonomy and the clear disregard for women's health and well being. Once again, we put a call out to resist. To step up and stand up for women in our communities and we ask you to do the same. Of note: Abortion is not illegal. Not in Alabama or anywhere else in the U.S. Read MomsRising's statement here.