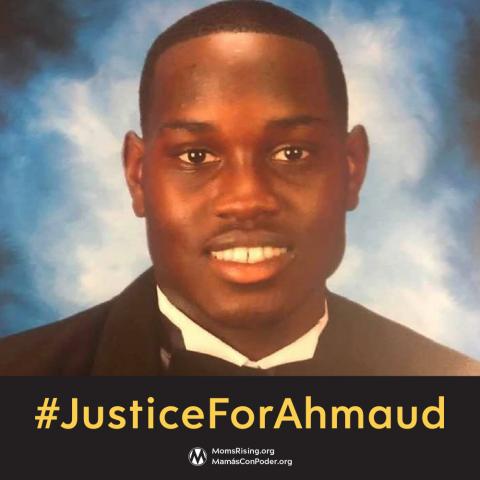 Top #5Actions of the Past Week: May 15, 2020
It's another Friday. The weather is warming and we are DOING IT, friends. This is a hard time. Thank you for all you're doing for yourself, your family, your community and this nation. We see you, and we're honored to work alongside you.
This week's list of top #5Actions includes some urgent calls to action around childcare, SNAP, Ahmaud Arbery, and more. Please be sure to scroll down and take action, then forward this email to friends and family who may want to, too.
Together we are powerful! Here's the list: 
1. Tell your Senators: Boost SNAP!
BACKGROUND: The House of Representatives' HEROES Act provides a much needed boost to SNAP (food stamps) and struggling families. But not everyone is on the same page about the need for a boost to SNAP, let alone another COVID-19 relief package—Senate Republican Leader Mitch McConnell and his allies have come straight out and said multiple times that they don't want to boost SNAP in any way. We need YOU to help change their minds and let them know this is crucial to our families. ***SIGN OUR LETTER calling on the Senate to do as the House just did and boost nutrition assistance and SNAP in their next COVID-19 relief package!


2. Let's Get the COVID-19 Child Care Crisis in the Papers!
BACKGROUND: Right now child care is at a critical moment in our nation. As states start to reopen significant child care relief is a MUST! The HEROES Act introduced in the House provides just $7 billion for child care—far short of the $50 billion needed to stabilize the industry and support families and providers. Without significantly more funding, half of child care providers are likely to close their doors. The size and scope of the impact of this public health crisis on the child care sector is profound and growing with families with young children, including infants and toddlers, struggling the most. This is why we need your help! Letters to the editor are an incredibly powerful way to make sure our elected leaders get the message and put an end to this child care crisis. Can you help make sure child care relief makes it to the top of their agenda by sending a quick letter now? We will make it super easy with our LTE tool that gives you talking points, a sample letter, and even an easy way to submit your letter. Click here to get started.


BACKGROUND: This was a tough Mother's Day. Not just because of the pandemic. We were also all thinking of Ahmaud Arbery's mother Wanda, who was grieving the loss of her son at the hands of two men who literally hunted down and killed him while he was jogging. Just last week — ELEVEN WEEKS LATER — Gregory and Travis McMichael were arrested for the shooting. The prosecutors and police sworn to protect families and communities, who should have taken immediate action, instead waited eleven full weeks as they hid and covered up a horrific murder. And let's be clear: the video of the murder did not prompt the arrests. The public release of the video did. Ahmaud's mother and his friends and family have had to wait eleven weeks for any measure of justice. And their wait won't be over until full justice is served to Ahmaud's killers and those in the white supremacist system who failed him. Join us to demand the removal of the district attorneys and the sheriff who failed in their duties to Ahmaud, his family, and the people of Georgia. Add your name now ->

4. Join the #KeepMarching Meeting on COVID-19 and Loneliness with Former U.S. Surgeon General Vivek Murthy. May 19, 8pm ET / 5pm PT. 
BACKGROUND: COVID-19 has ushered in an unprecedented era of isolation and loneliness. Dr. Vivek Murthy, who served under President Obama, has just released his new book, *Together: The Healing Power of Human Connection in the Sometimes Lonely World*. In *Together*, Dr. Murthy makes the case for loneliness as a public health concern. As social distancing and shelter-in-place orders deprive people of human connection just as they are beset with enormous worry and pressure, Dr. Murthy's expertise and wisdom could not come at a better time. At this #KeepMarching online Zoom meeting, we'll be looking at Dr. Murthy's book, *Together,* which include inspiring stories and creative solutions for people to help themselves and those they love beat loneliness by building more connected lives, especially in these times. Sign up now! 



5. Help Us Send 1,000,000 Voting Reminder Postcards to Moms! 
BACKGROUND: Help us send 1,000,000 voting reminder postcards to moms who haven't always voted in the past to help them exert their voting power this November. Sign up to receive free packets of 10 pre-stamped, pre-address, gorgeous, eye-catching postcards for you to fill out in a jiffy, which, a few weeks before the Nov. 3 elections, we'll release in a tidal wave of heart-felt mom-to-mom messages to vote. Get your postcards now! 
Thank you for all you do, and have a good weekend.